Popular Quotes + Sayings For Any Wedding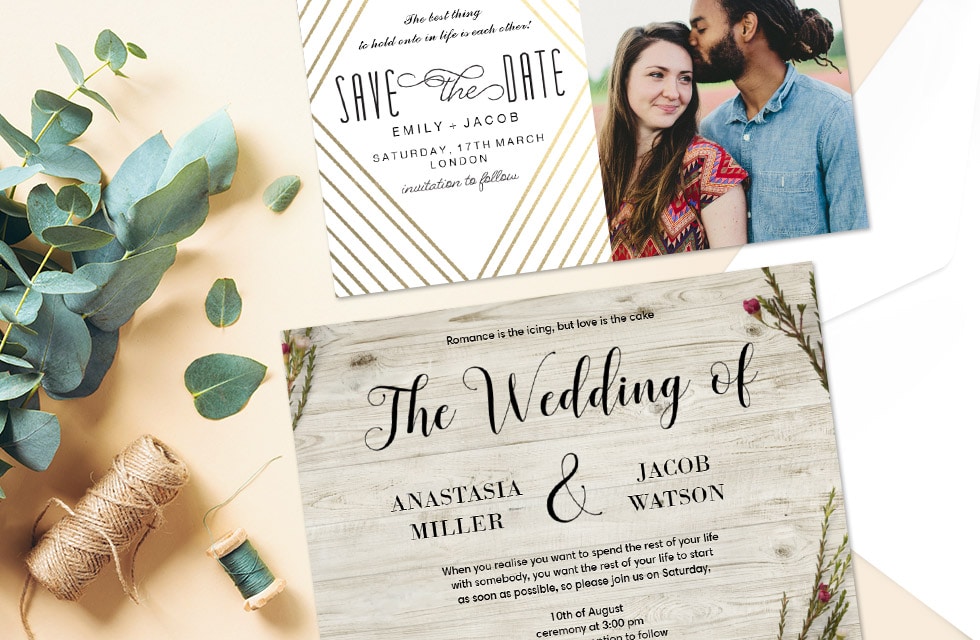 Weddings are milestone events, and it can be hard to find the exact right words to express your big feelings. Read on for some funny, sentimental and traditional quotes for vows, toasts, speeches, or card sentiments.
Whether you want to impart some wedding wisdom or inject a little humour into your marriage toast or Best Man speech, our wedding quotes will inspire you; and adding in some lovely words from famous poets, authors, philosophers, or even well-loved film characters will take any speech to the next level.
We hope our list of short (but sweet) love and marriage quotes will inspire your own wedding day messages. Use them as a starting point for your wedding vows, sprinkle them throughout your heart-warming toast, or work them into your wedding decor, custom wedding invitations and even wedding congratulation cards to the happy couple. Whichever one you choose, it's bound to set the tone!
Quotes About Love And Marriage
Use our collection of love quotes and sayings to help you find the best words to say on the big day. Our list of wedding sentiment messages include funny, inspiring, religious, and heartfelt quotes for any type of vows or speech, as well as some moving marriage quotes and lyrics from music, film and the silver screen. They are perfect words to recite during wedding ceremonies and wedding receptions. You could even use our text editing tools to immortalise your wedding sayings alongside your wedding album photos in your Snapfish photo book, or as an added sentiment in your customised wedding announcements and invitations.
Messages for Inspirational Couples
Love is inspiring, so tell your loved ones how much they inspire you with one of the quotes below. Heartfelt and meaningful wedding quotes add a little extra to the wedding speech and can be proudly displayed on personalised wedding stationery and wedding decor signs. These inspiring quotes pay tribute to the most powerful commitment that can be made between two people.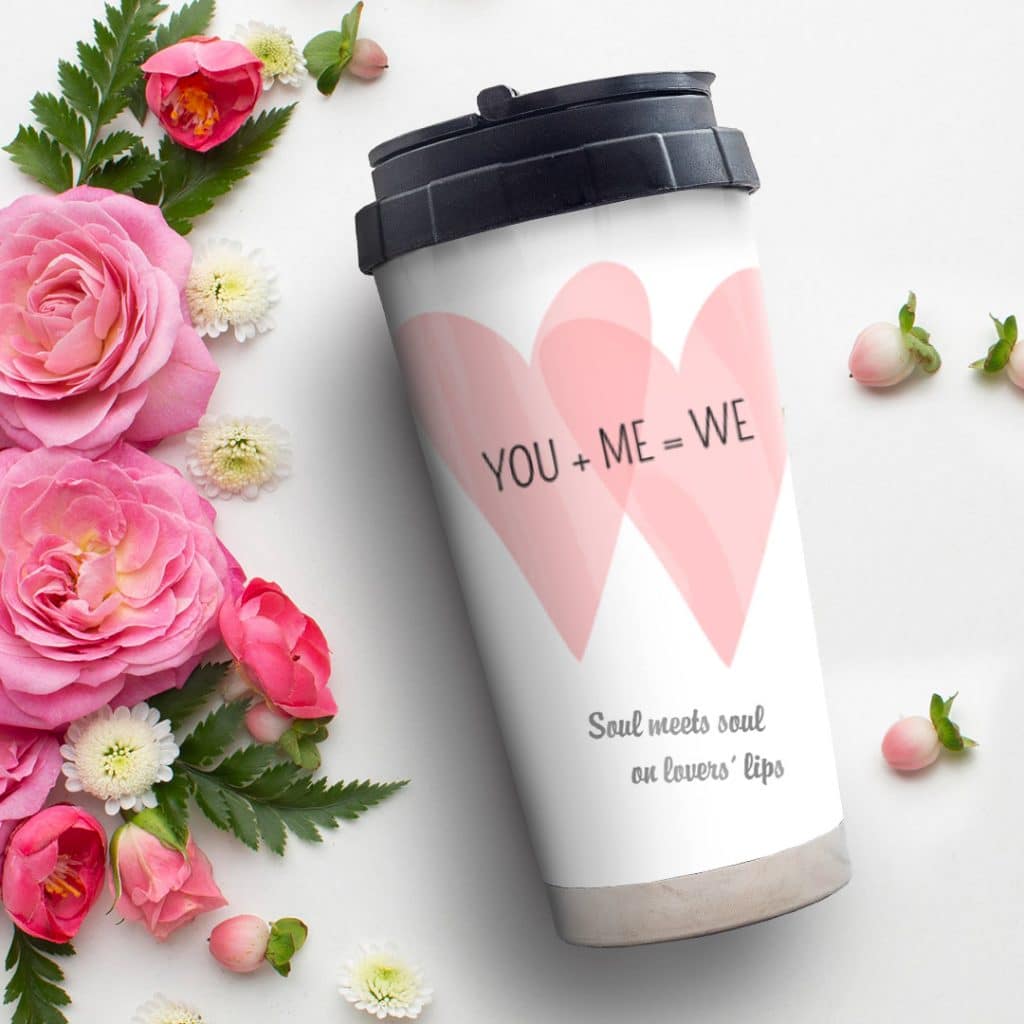 "Once in a while, right in the middle of an ordinary life, love gives us a fairy tale."
— Unknown
"The highest happiness on earth is the happiness of marriage."
— William Lyon Phelps
"Doubt thou the stars are fire; Doubt that the sun doth move; Doubt truth to be a liar; But never doubt I love."
— William Shakespeare
"I would rather share one lifetime with you than face all the ages of this world alone."
— J. R. R. Tolkien
"Being someone's first love may be great, but to be their last is beyond perfect."
— Unknown
"Keep love in your heart. A life without it is like a sunless garden when the flowers are dead."
— Oscar Wilde
"True love stories never have endings."
— Richard Bach
"You don't love someone for their looks… But because they sing a song only you can hear."
— Unknown
"Soul meets soul on lovers' lips."
— Percy Shelley
Make 'Em Laugh
Quotes about love and marriage are often very romantic and even soppy. Not every couple wants lovey-dovey wedding speeches, so if the newly-weds love to joke and are up for breaking the odd (wedding) rule, a funny wedding toast might be more representative of who they are as a couple. Our funny quotes and sayings might be just the ticket for you to include in your wedding speeches or even on your Save-The-Date cards.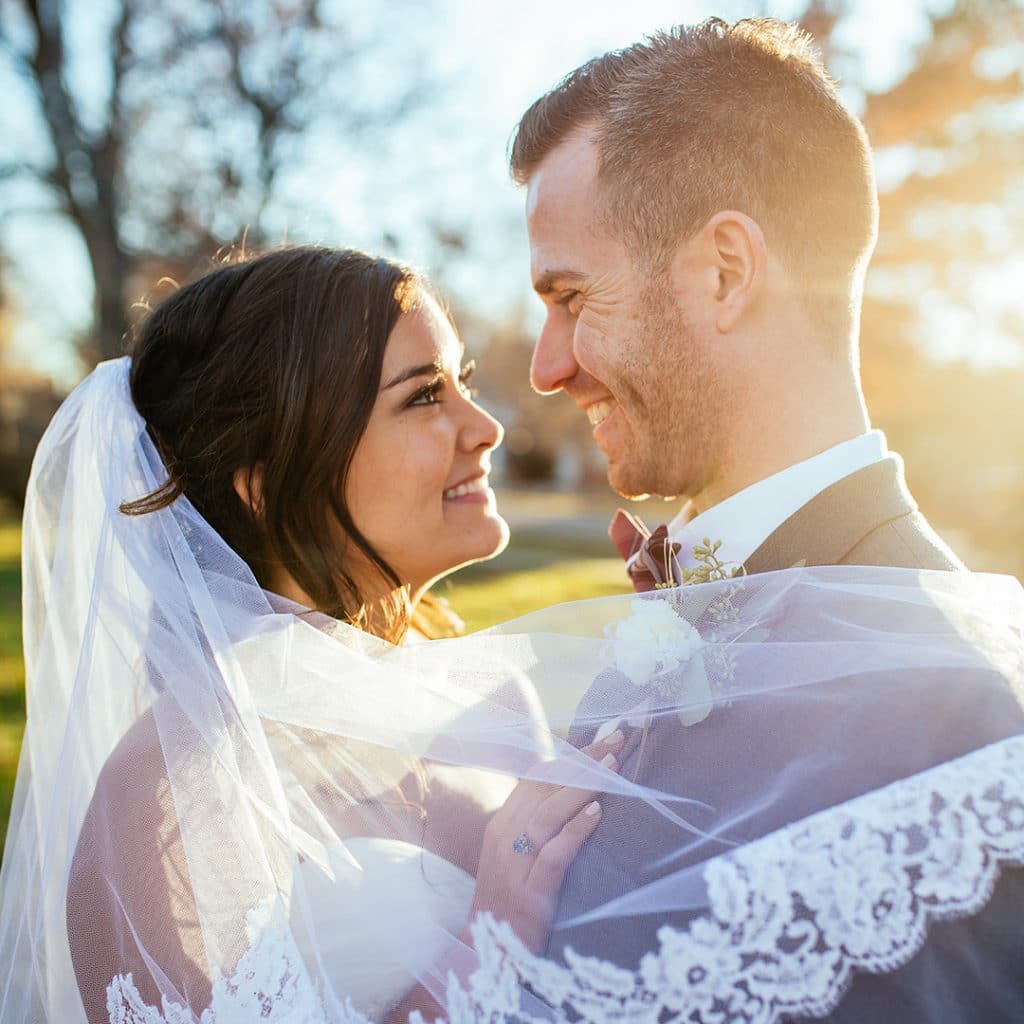 "When a man opens a car door for his wife, it's either a new car or a new wife."
— Duke of Edinbugh
"The groom always smiles proudly, because he's convinced he's accomplished something quite wonderful. The bride smiles because she's been able to convince him of it."
— Judith McNaught
"Only married people understand you can be miserable and happy at the same time."
— Chris Rock
"A good marriage is one where each partner secretly suspects they got the better deal."
— Anonymous
"My most brilliant achievement was my ability to persuade my wife to marry me."
— Winston Churchill
"The ideal husband understands every word his wife doesn't say."
— Alfred Hitchcock
"We are all a little weird and life's a little weird. And when we find someone whose weirdness is compatible with ours, we join up with them and fall in mutual weirdness and call it love."
— Dr. Seuss
"Romance is the icing, but love is the cake."
— Unknown
"I now pronounce you man and wife. You may now change your Facebook status."
— Anonymous
"Marrying a man is like buying something you've been admiring for a long time in a shop window. You may love it when you get it home, but it doesn't always go with everything else."
— Jean Kerr
"Love is a lot like a backache, it doesn't show up on X-rays, but you know it's there. "
— George Burns
"Marriage is a wonderful invention: then again, so is the bicycle repair kit."
— Billy Connolly
"You can't put a price tag on love. But if you could, I'd wait for it to go on sale."
— Hussein Nishah
"I love being married. It's so great to find one special person you want to annoy for the rest of your life."
— Rita Rudner
"Being a good husband is like being a stand-up comic. You need 10 years before you can call yourself a beginner."
— Jerry Seinfeld
"An archaeologist is the best husband a woman can have. The older she gets, the more interested he is in her."
— Agatha Christie
Get Lyrical
They say song lyrics are poetry set to music, so it's no wonder that quotes from love songs can convey the most romantic of sentiments. Whether it's your song or a song that reminds you of the newlywed's love for each other, song lyrics can be a great way to express what you feel and can brighten up any wedding speech.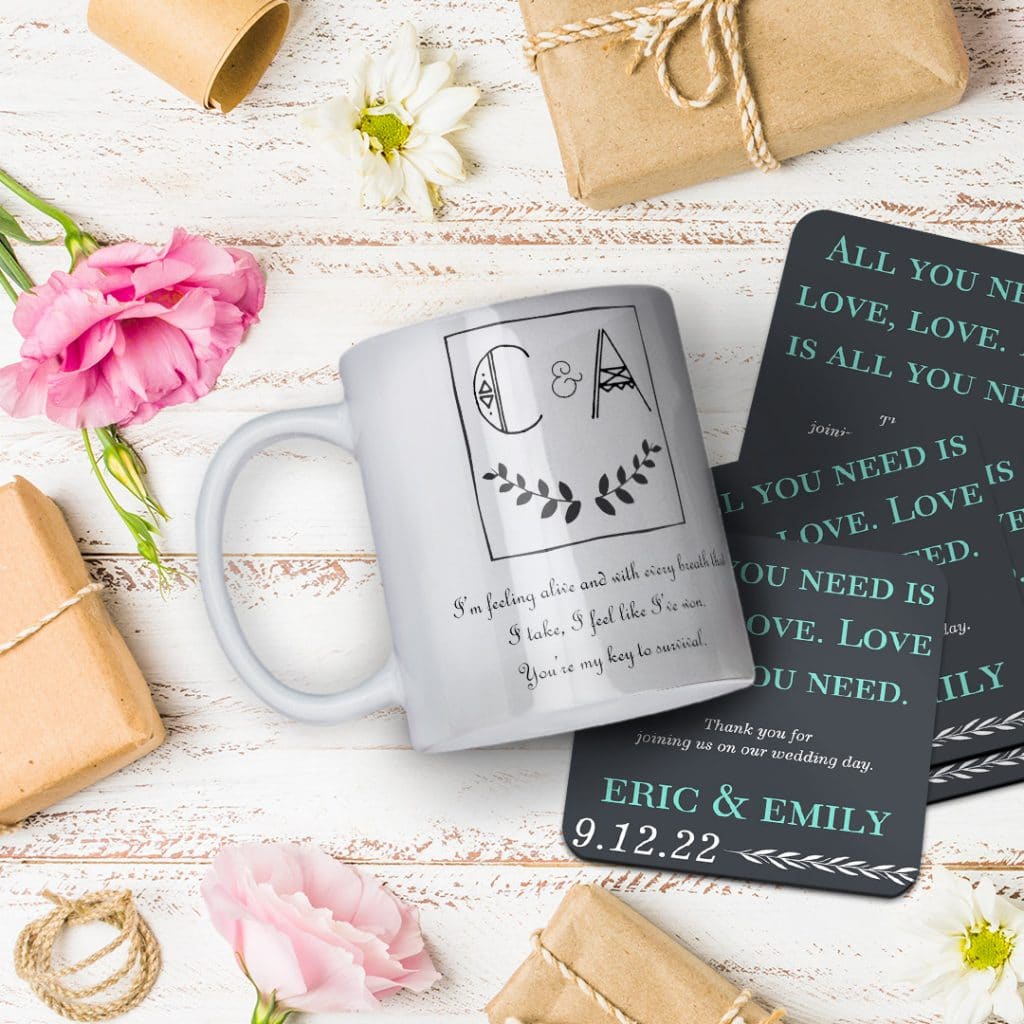 "Ever thine, ever mine, ever ours."
— Ludwig van Beethoven
"I don't know where I'd be without you here with me. Life with you makes perfect sense. You're my best friend."
— Tim McGraw
"Right beside you is where I belong, from this moment on."
— Shania Twain
"And in the end, the love you take is equal to the love you make."
— The Beatles
"At last my love has come along, my lonely days are over and life is like a song."
— Etta James
"Wise men say only fools rush in but I can't help falling in love with you."
— Elvis Presley
"All you need is love, love. Love is all you need."
— The Beatles
"The older I get, the less time I want to spend with the part of the human race that didn't marry me."
— Robert Brault
"Love you like a fat kid loves cake."
— 50 Cent
"I'm feeling alive and with every breath that I take, I feel like I've won. You're my key to survival."
— Secondhand Serenade
"So I'm thanking you today, because of you I am now me."
— John Butler Trio
"I hope you don't mind, I hope you don't mind that I put into words. How wonderful life is, now you're in the world."
— Elton John
"To find someone who will love you for no reason, and to shower that person with reasons, that is the ultimate happiness."
— Robert Brault
"I'll never let you down. No matter what you do. If you just walk with me. And let me walk with you."
— Neil Young
"Every breath that is in your lungs is a tiny little gift to me."
— The White Stripes
Messages For Movie Lovers
It can seem like a nearly impossible task to condense all your feelings about the person you're marrying into just a few words for your wedding vows. Luckily, screenwriters have saved you a lot of the soul-searching by writing some of the sweetest things about love. To help you create your own ceremony vows, we've listed some of the most romantic film quotes of all time.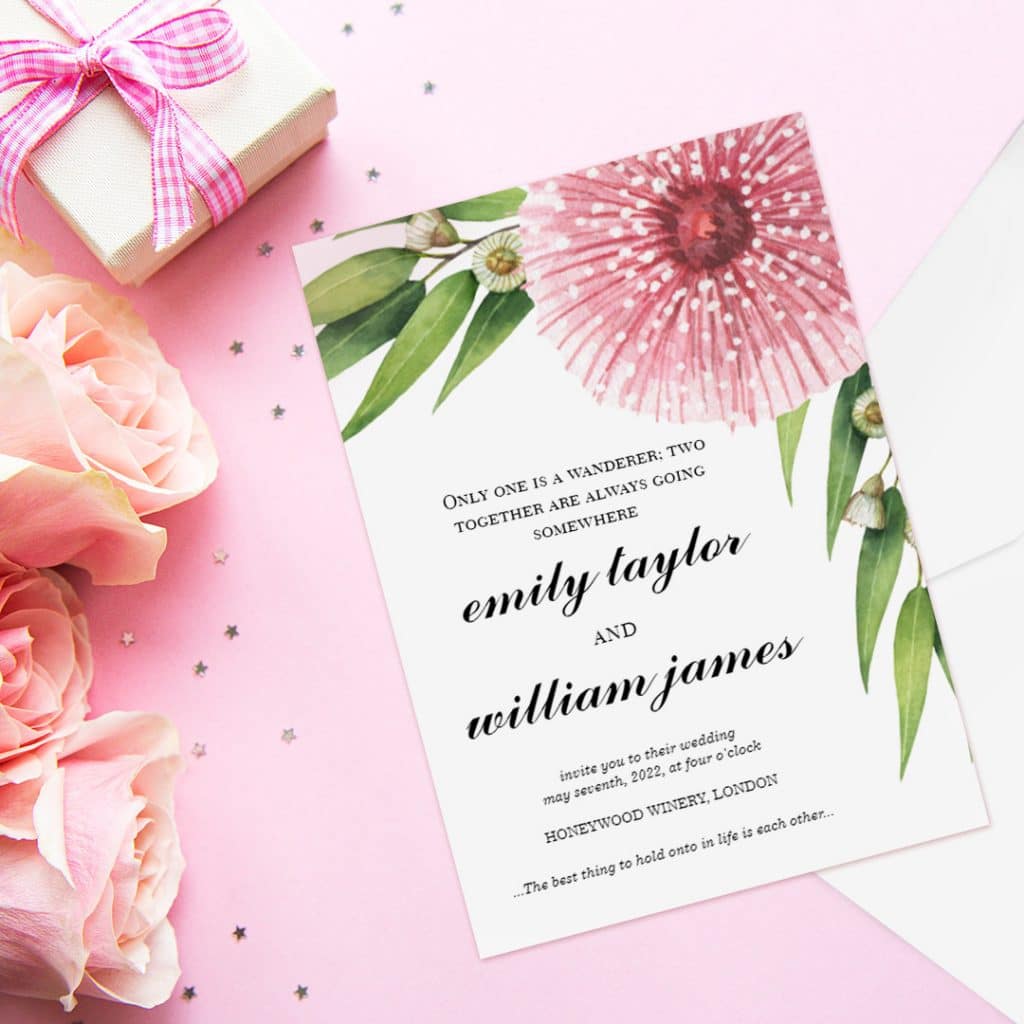 "The greatest thing you'll ever learn is just to love, and be loved in return."
— Moulin Rouge
"To me, you are perfect."
— Love Actually
"You will never age for me, nor fade, nor die."
— Shakespeare in Love
"When you realise you want to spend the rest of your life with somebody, you want the rest of your life to start as soon as possible."
— When Harry Met Sally
"Only one is a wanderer; two together are always going somewhere."
— Vertigo
"When I sleep, I dream of you, and when I wake, I long to hold you in my arms. If anything, our time apart has only made me more certain that I want to spend my nights by your side, and my days with your heart."
— Nights in Rodanthe
"It doesn't matter if the guy is perfect or the girl is perfect, as long as they are perfect for each other."
— Good Will Hunting
"Sexiness wears thin after a while, and beauty fades. But to be married to [someone] who makes you laugh every day, now that's a real treat."
— Joanne Woodward
"The best thing to hold onto in life is each other."
— Audrey Hepburn
"For it was not into my ear you whispered, but into my heart. It was not my lips you kissed, but my soul."
— Judy Garland
"I vow to fiercely love you in all your forms, now and forever. I promise to never forget that this is a once in a lifetime love."
— The Vow
Get In The Spirit
Powerful and timeless wedding bible verses remind us what brought us together and reaffirms that a wedding not only unites those who are in love, but also in faith. Having comforting words read aloud at a wedding ceremony, printed on invitations or thank you cards, or framed as a wedding gift on personalised canvas prints, will leave a lasting impression in their hearts.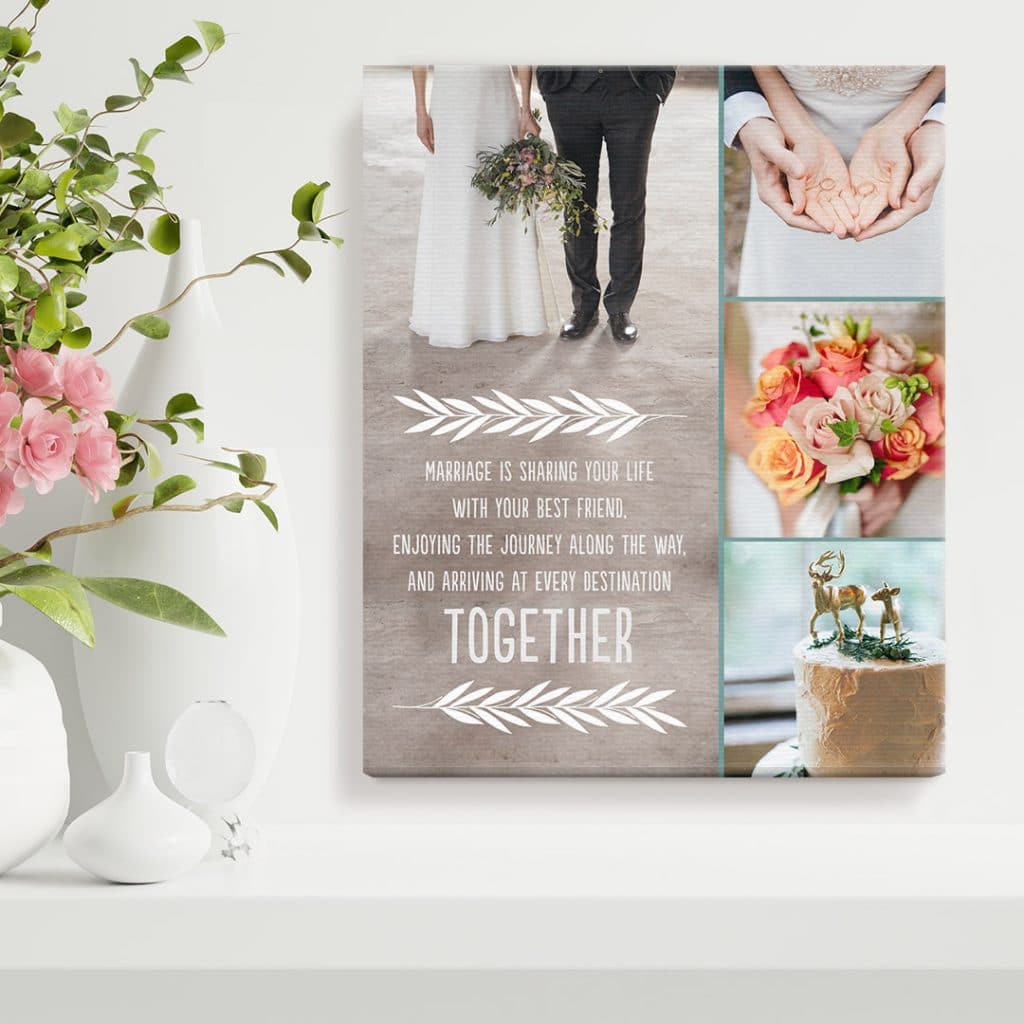 "Love never gives up, never loses faith, is always hopeful and endures through every circumstance."
— Corinthians 13:7
"For as a young man marries a young woman, so shall your sons marry you, and as the bridegroom rejoices over the bride, so shall your God rejoice over you."
— Isaiah 62:5
"A good marriage isn't something you find; it's something you make, and you have to keep on making it."
— Gary Thomas
"Love is patient and kind; love does not envy or boast; it is not arrogant or rude. It does not insist on its own way; it is not irritable or resentful; it does not rejoice at wrong-doing but rejoices with the truth. Love bears all things, believes all things, hopes all things, endures all things. Love never ends."
— Corinthians 13:4-8
"Love is not something you feel. It is something you do."
— David Wilkerson
"And now these three remain: faith, hope and love. But the greatest of these is love."
— Corinthians 13:13
"I am my beloved and my beloved is mine."
— Song of Solomon 6:3
"Love recognises no barriers. It jumps hurdles, leaps fences, and penetrates walls to arrive at its destination full of hope."
— Maya Angelou
"Always be humble and gentle. Be patient with each other, making allowance for each other's faults because of your love."
— Ephesians 4:2
"Let love and faithfulness never leave you; bind them around your neck, write them on the tablet of your heart."
— Proverbs 3:3
"Keep alert, stand firm in your faith, be courageous, be strong. Let all that you do be done in love."
— Corinthians 16:13
"There is no more lovely, friendly and charming relationship, communion or company, than a good marriage."
— Martin Luther
"Marriage is sharing your life with your best friend, enjoying the journey along the way, and arriving at every destination together."
— Fawn Weaver
Father Of The Bride
Whether it's the father of the bride or another parent who wants to toast their child's marriage, any of these wise wedding quotes will make the toast go that extra mile. They epitomise how happy and proud you are to be part of their important day. These insightful love quotes are perfect openers or closing sentences in your wedding speech. These quotes will also look fantastic as a loving sentiment, when printed on a personalised wedding gift for the happy couple.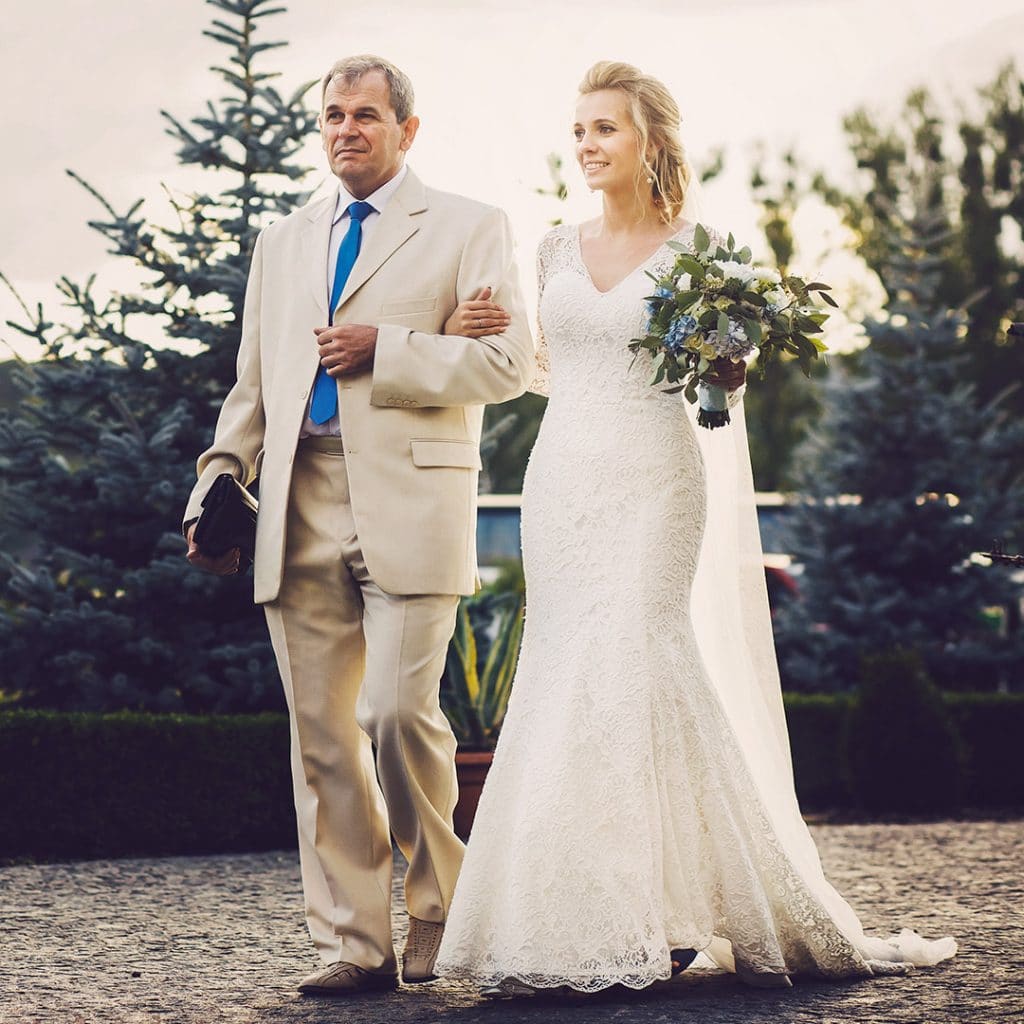 "You know you're in love when you can't fall asleep because reality is finally better than your dreams."
— Dr. Seuss
"Tis better to have loved and lost, than never to have loved at all."
— Alfred, Lord Tennyson
"Being deeply loved by someone gives you strength, while loving someone deeply gives you courage."
— Lao Tzu
"You know when you have found your prince because you not only have a smile on your face, but in your heart as well."
— Unknown
"When you realise you want to spend the rest of your life with somebody, you want the rest of your life to start as soon as possible."
— When Harry Met Sally
"Love is life. And if you miss love, you miss life."
— Leo Buscaglia
"Love doesn't make the world go round. Love is what makes the ride worthwhile."
— Franklin P. Jones
"A successful marriage requires falling in love many times, always with the same person."
— Mignon McLaughlin
"The beauty of marriage is not always seen from the very beginning—but rather as love grows and develops over time."
— Fawn Weaver
"For it was not into my ear you whispered, but into my heart. It was not my lips you kissed, but my soul."
— Judy Garland
"To love or have loved, that is enough. Ask nothing more."
— Victor Hugo
"You don't marry the person you can live with—you marry the person you can't live without."
— Unknown
"Marriages, like a garden, take time to grow. But the harvest is rich unto those who patiently and tenderly care for the ground."
— Darlene Schacht
"When you trip over love, it is easy to get up. But when you fall in love, it is impossible to stand again."
— Albert Einstein
"A happy marriage is a long conversation which always seems too short."
— Andre Maurois
"In dreams and in love there are no impossibilities."
— János Arany
Hopelessly in Love
Writing your own marriage vows can be intimidating and trying to squeeze your entire heart into just a few lines is no small task. Read on for a few of the best wedding vow examples we have found; we hope they will inspire you when it's time to write your own heartfelt declaration about what it means to love and be loved.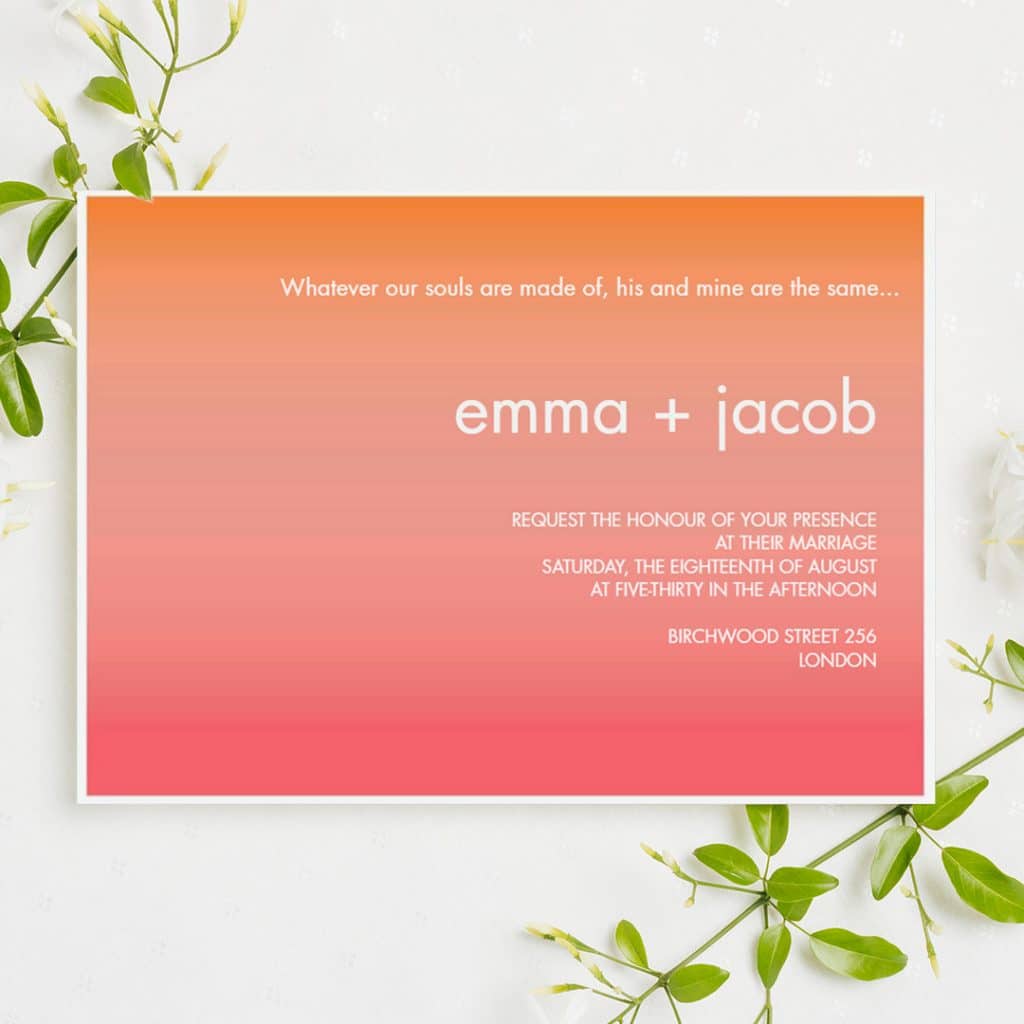 "Two souls with but a single thought; two hearts that beat as one."
— John Keats
"Grow old along with me; the best is yet to be."
— Robert Browning
"I love you, not only for what you are, but for what I am when I am with you. I love you, not only for what you have made of yourself, but for what you are making of me."
— Roy Croft
"For you see, each day I love you more. Today more than yesterday and less than tomorrow."
— Rosamunde Gerard
"Walking with your hands in mine and mine in yours, that's exactly where I want to be always."
— Fawn Weaver
"Whatever our souls are made of, his and mine are the same."
— Emily Bronte
"If I loved you less, I might be able to talk about it more."
— Jane Austen
"In all the world, there is no heart for me like yours. In all the world, there is no love for you like mine."
— Maya Angelou
"Love is not about staring at each other but staring off in the same direction."
— Antoine de Saint Exupéry
"True love is never blind, but rather brings an added light."
— Phoebe Cary
"My love for you is a journey, starting at forever and ending at never."
— Unknown
"By my soul, I can neither eat, drink, nor sleep; nor, what's still worse, love any woman in the world but her."
— Samuel Richardson
"If you live to be a hundred, I want to live to be a hundred minus one day, so I never have to live without you."
— A. A. Milne
A wedding toast, or heartfelt card message, is an opportunity to offer your congratulations to the newlyweds by shining a light on what makes their relationship so special to you. Writing the best wedding speech doesn't have to be hard with our favourite marriage quotes, love quotes, funny and sentimental quotes.
Add one of the message suggestions to one of our unique photo gifts and create a memorable and meaningful wedding gift. From cute couple cushions, to framed wall art, matching marriage mugs and wedding cards filled with your messages of love, Snapfish offers you the tools to create wedding gifts that feel more personal, (simply and cost-effectively).
Snapfish + Macmillan are working in partnership to raise vital funds. For every greeting card or flat card set sold, Macmillan receive up to 15p.
No matter which wedding gifts you end up making, your creation is sure to inspire all kinds of love. Please share your marriage masterpiece with us and remember you can tag us with @snapfishuk in your photos on Pinterest, Instagram or Facebook or use the hashtag #snapfishuk. Follow our handy How To tutorials on our YouTube channel.