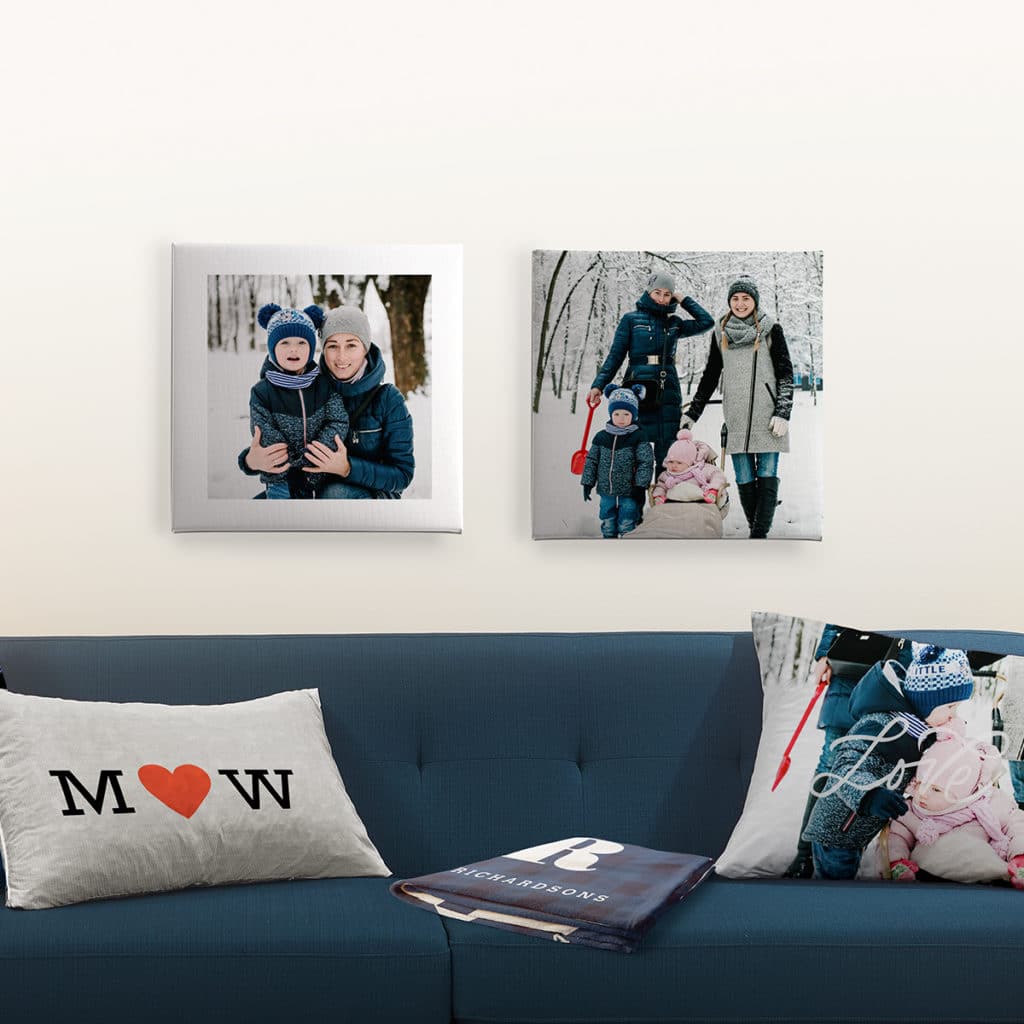 After Twelfth Night when the Christmas decorations have been taken down and put away, your home can suddenly feel a little lacklustre. So, what's the easiest thing you can do to beat those winter blues? Give your home décor a winter refresh, of course!
With just a few quick changes, you'll soon feel like you're living in a new home. Need help getting started? We have a few fun + fast ideas to help you revitalise your space.
Winter wall art
If you already feature framed photos around the house, you know how easy it is to swap them out with the seasons. Now's a great time to go through those photos on your phone and print them out for everyone to see. Make sure you're taking advantage of our free prints credit in the app! If you're low on space but still want to feature multiple photos around your home, a collage print is always a great option.
Want to take your photo display to the next level? Create canvas prints with your favourite pictures! We have a wide range of sizes and styles for you to choose from. We recommend mixing things up to give your display more depth and personality. Our premium canvas prints are printed on matt finish, premium satin canvas with a 1.5″ thick frame. Slim canvas prints are printed with a satin finish and are wrapped around a solid 0.7″ frame. We also offer slim canvas sets for maximum wow factor on your walls! Each of our canvas prints is gallery-wrapped with your choice of colour wrap or photo wrap options. Our canvas comes ready to hang, so no frame is necessary.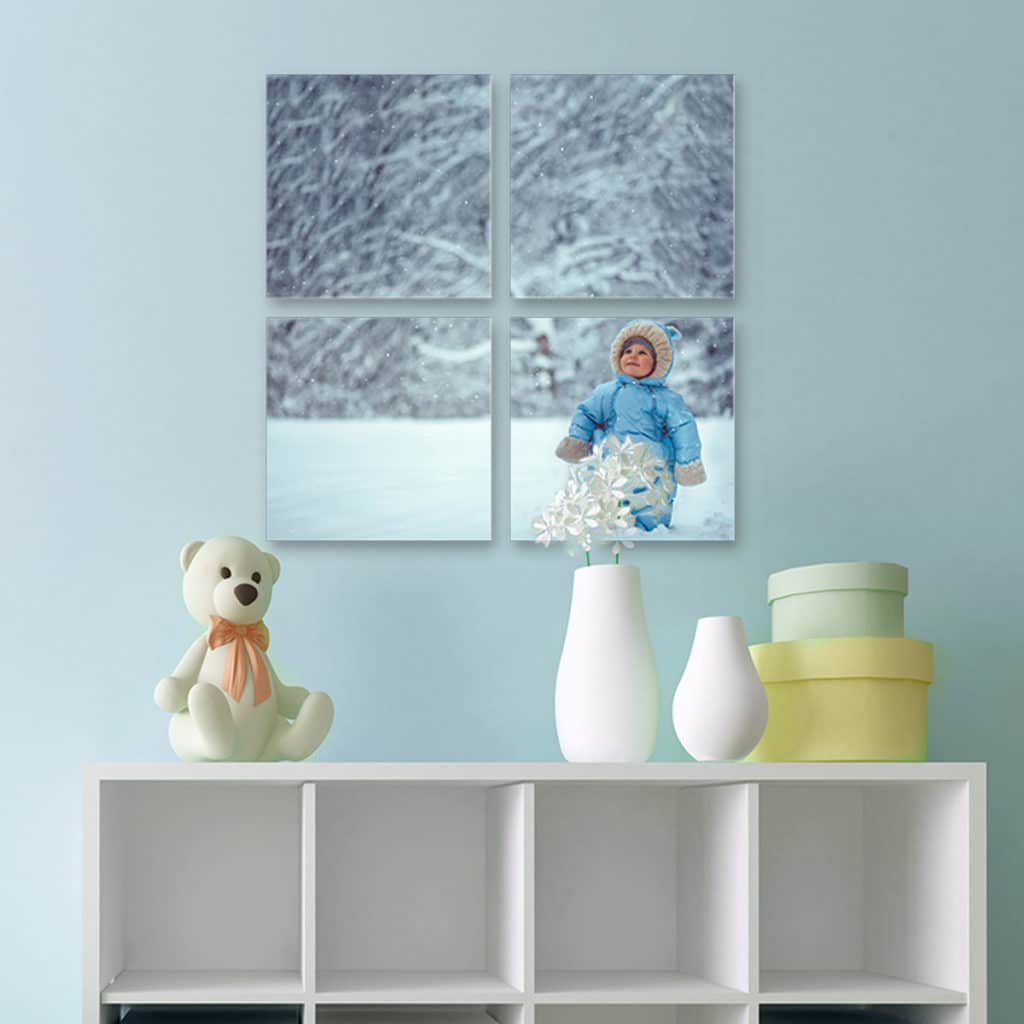 If you really want to make a statement with your wall art, try our stunning split photo canvas sets. Instead of just one main focal point, we split your image across 3, 4, or 9 different canvas panels. They're perfect for displaying landscapes, cityscapes, and larger-than-life moments. Snapfish offers five different size options for split canvas sets: Set of 3 12×12" (30x30cm), set of 3 12×24" (30x60cm), set of 4 8×8" (20x20cm), set of 4 12×12" (30x30cm), and set of 9 8×8" (20x20cm).
New Photo Tiles for your wall
Would you rather not mess about with hammer and nails? Try our new 8×8" photo tiles! Each photo tile is made from lightweight foam and includes self-adhesive tabs, so they're really simple to hang. That means you can easily stick, reposition, or switch out your tiles with ease. Perfect for changing things up with each season.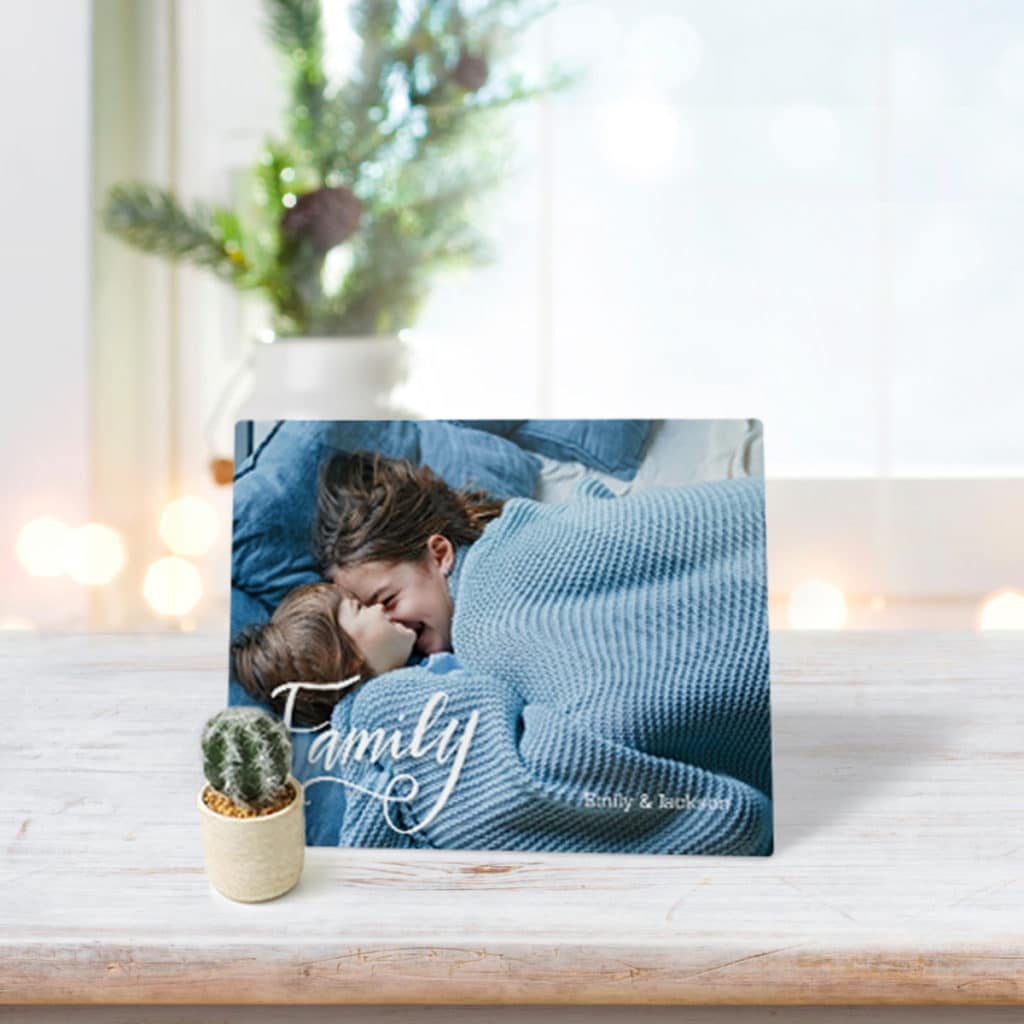 For something truly unique, try printing your photos onto a different medium like wood, metal, or acrylic! Our solid wood photo panels will instantly add rustic charm to your walls or your table–top. For a more modern look, try our metal prints. They're perfect for black and white or high-contrast photos as the colours are muted when printed onto the aluminium backing. For photos that really shine, check out our acrylic prints. We offer two different styles, with chrome fixings or hidden fixings. Either option is sure to take your photo display to the next level!
Simple swaps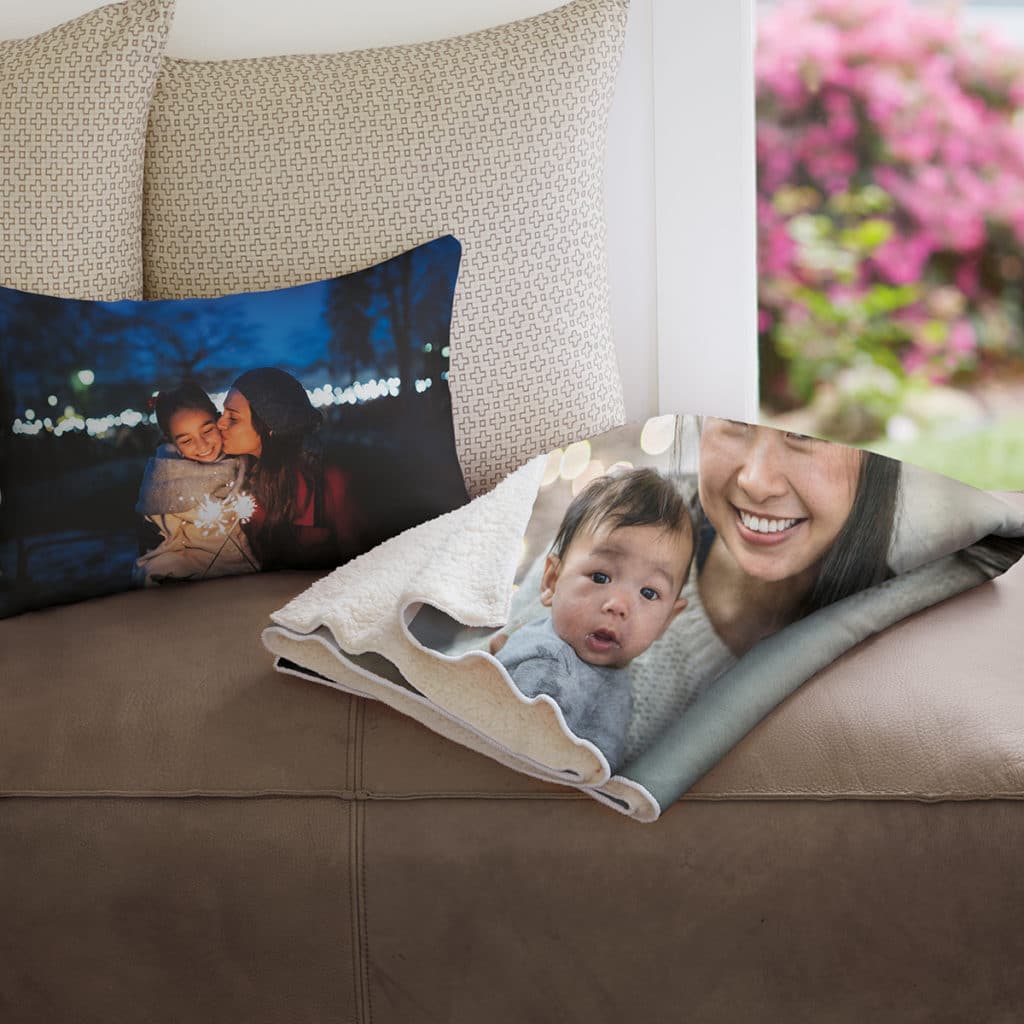 If you're already happy with your artwork, try switching out accessories such as cushions and blankets. After all, it's wintertime and there's nothing better than a room full of cosy comforts, especially during a COVID-lockdown! If your existing wall art has a colour you love, try bringing that hue into the room with a coordinating blanket or cushion. You can also try out different colour combinations to add instant style.
We spend a lot of time in our living rooms, but other areas of your home could use a little love too. If you want a quick change in the bathroom, try new towels. Our full photo design is perfect if you want to be whisked away to your last tropical vacation. If you don't have any photos you want to use, no problem! We have plenty of colourful design-only options for you to choose from. Available in two sizes.
Easy accents
The kitchen is another area where you can add some serious style. If you dry the dishes by hand, then you already know tea towels are a must, but they can also do double-duty as décor. You can hang them over a cupboard door, on refrigerator and oven handles, or simply laying on the kitchen counter. To dress up your dining room table, try switching out placemats and coasters.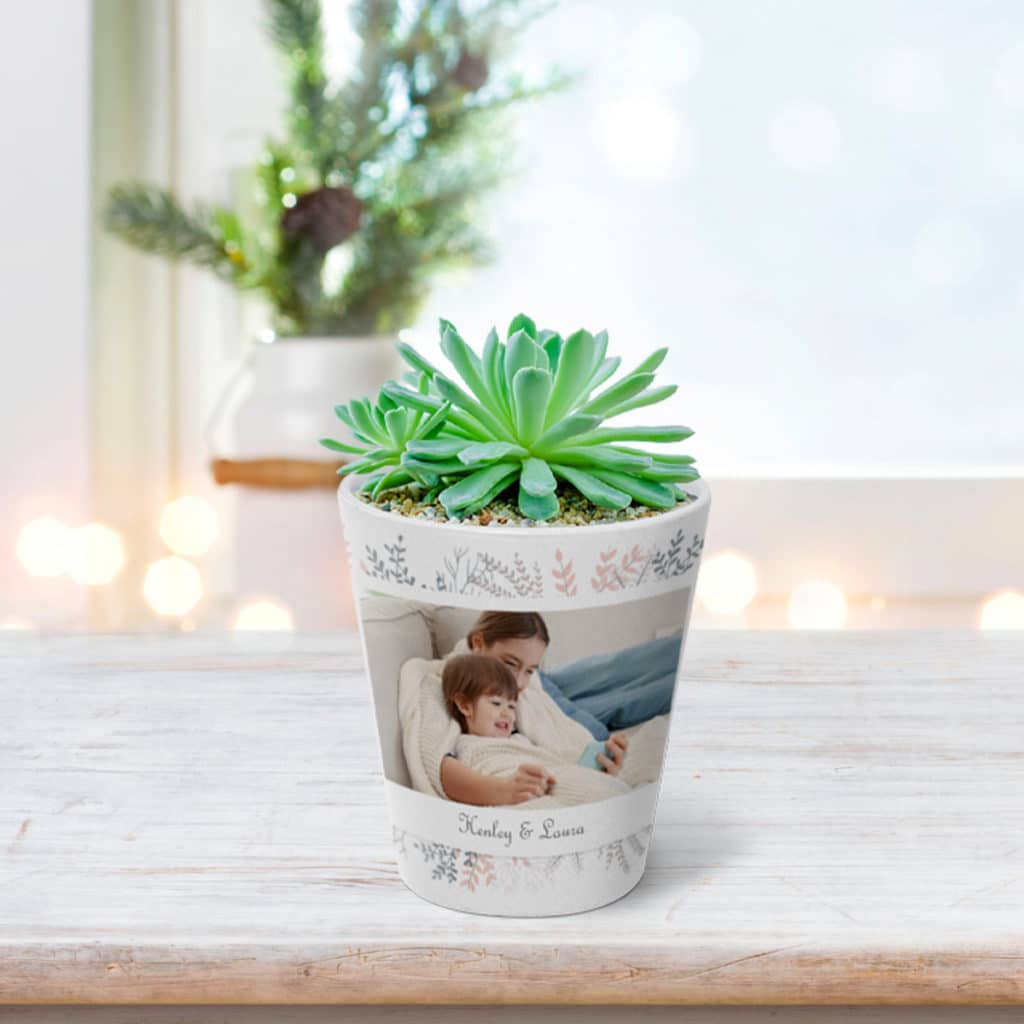 Another clever way to add colour + charm to a room is with houseplants. Don't worry if you don't have a lot of space, you can start small with a succulent, cactus, or herb. We have the perfect size plant pot you can put them in, too! Personalise yours with a family photo or choose one of our adorable designs.
Do you have any new year, new home goals for 2021? If you end up with a look you love, please share photos with us! Just tag @snapfishuk on Instagram or Facebook with photos or use the hashtag #snapfishuk. You can also follow us on YouTube, Twitter and Pinterest, too!