Top-Selling & Creative Birth and Adoption Announcements For Your New Child.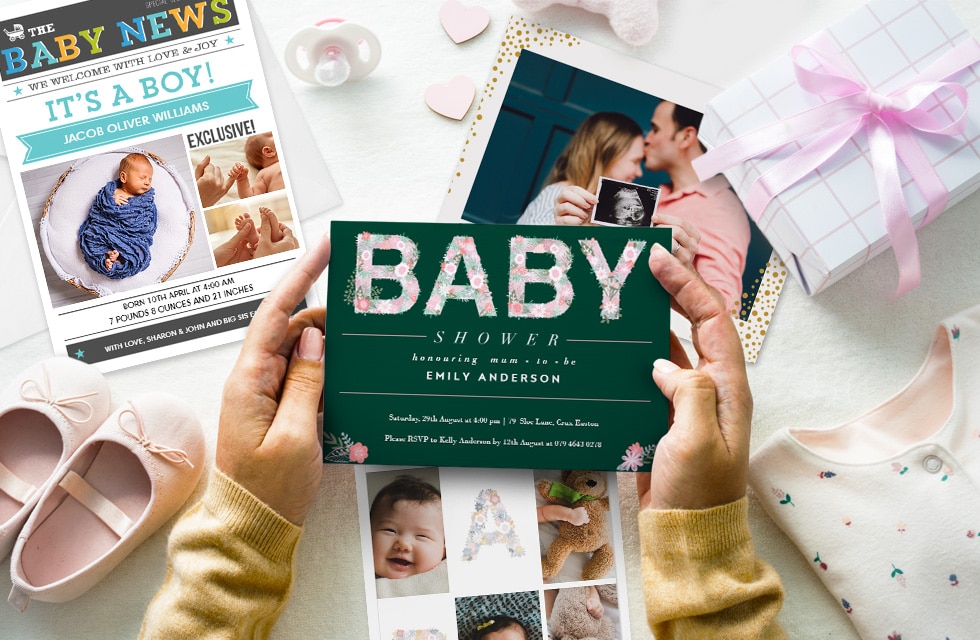 If you're expecting a baby, have just welcomed your newborn into the family, or have gone down the adoption route, you will probably want to share the exciting news of your new baby arrival. One fun approach is to send personalised pregnancy and new baby announcement cards that you could easily customise using the Snapfish creative card builder.
You may have photos and scans from a pregnancy or newborn photo shoot, or you may have captured some cute pictures of the new arrival straight after the birth. You could simply upload these from your phone using our app, or from your camera to the website in minutes and create professional-looking, custom new baby announcements showcasing collages of your best photos.
Friends and family will instantly feel part of your story when they receive these new baby cards in the post.
Our best-selling pregnancy and baby announcement card design ideas are perfect for baby girls, baby boys, and adoption announcements. Visit the site to view our baby card design templates, or you could create your own announcement from scratch with our easy-to-use card-maker tools!
When To Tell People You Are Pregnant
Many people wonder when they should announce a pregnancy. Everyone's pregnancy is different, and all depends on how comfortable you are sharing the news. Many couples wait until after their 12-week scan before sending any pregnancy announcements, since there's less chance of a miscarriage after that time. Plus, by then, you and your partner would have had plenty of time to get more comfortable with this huge life change yourselves, and be more ready to share the big news with friends and family.
Pregnancy Announcement Ideas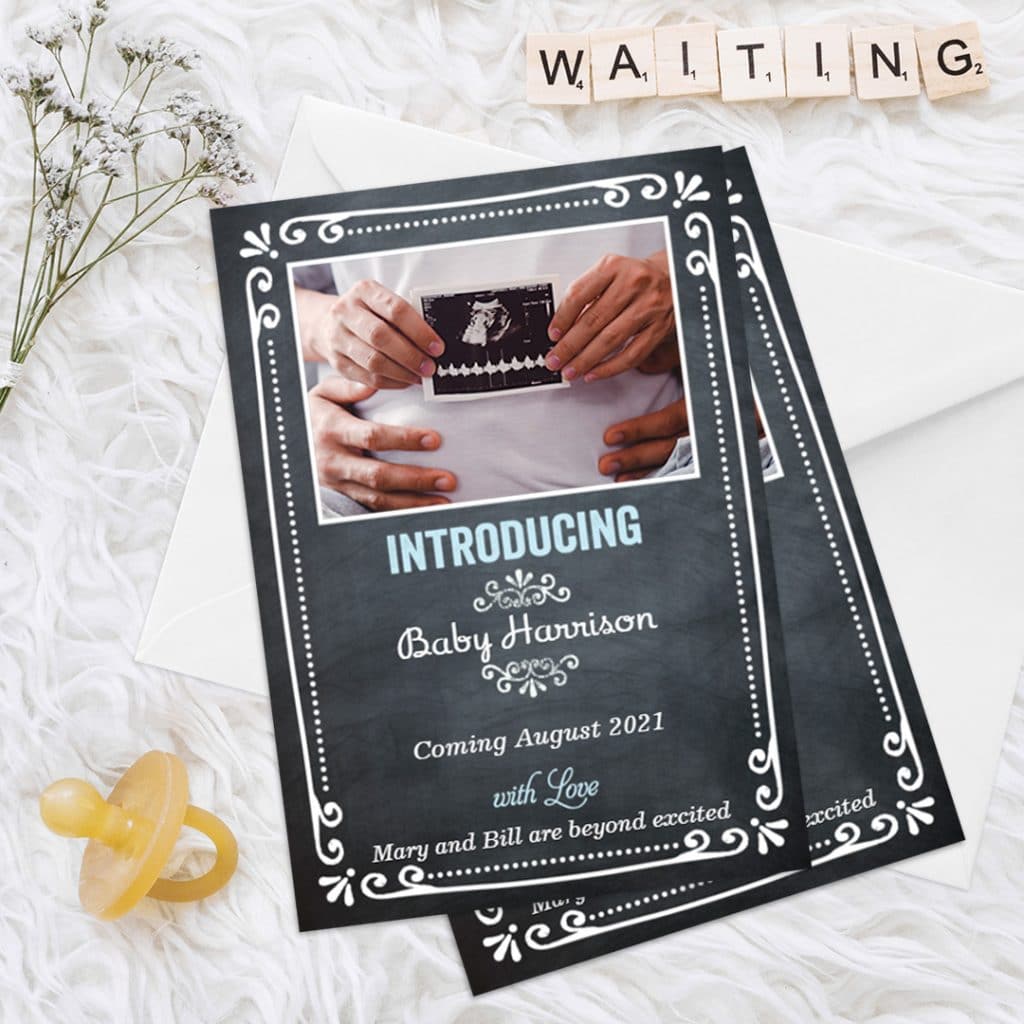 "If you're expecting a baby, it's a big announcement and you will want to make sure you share your baby news with all your friends and family. A formal birth announcement allows you to keep the important people updated on your milestone news, and when you create customised new baby announcement cards, you can add photos and scans to make your pregnancy announcement more personal and even serve as a sweet family keepsake.
You can also have fun adding pregnancy bump photos to your announcement cards along with the baby's gender and name, if known.
We have hand-picked three ideas to suit your personal announcement style."
Surprise Pregnancy Announcement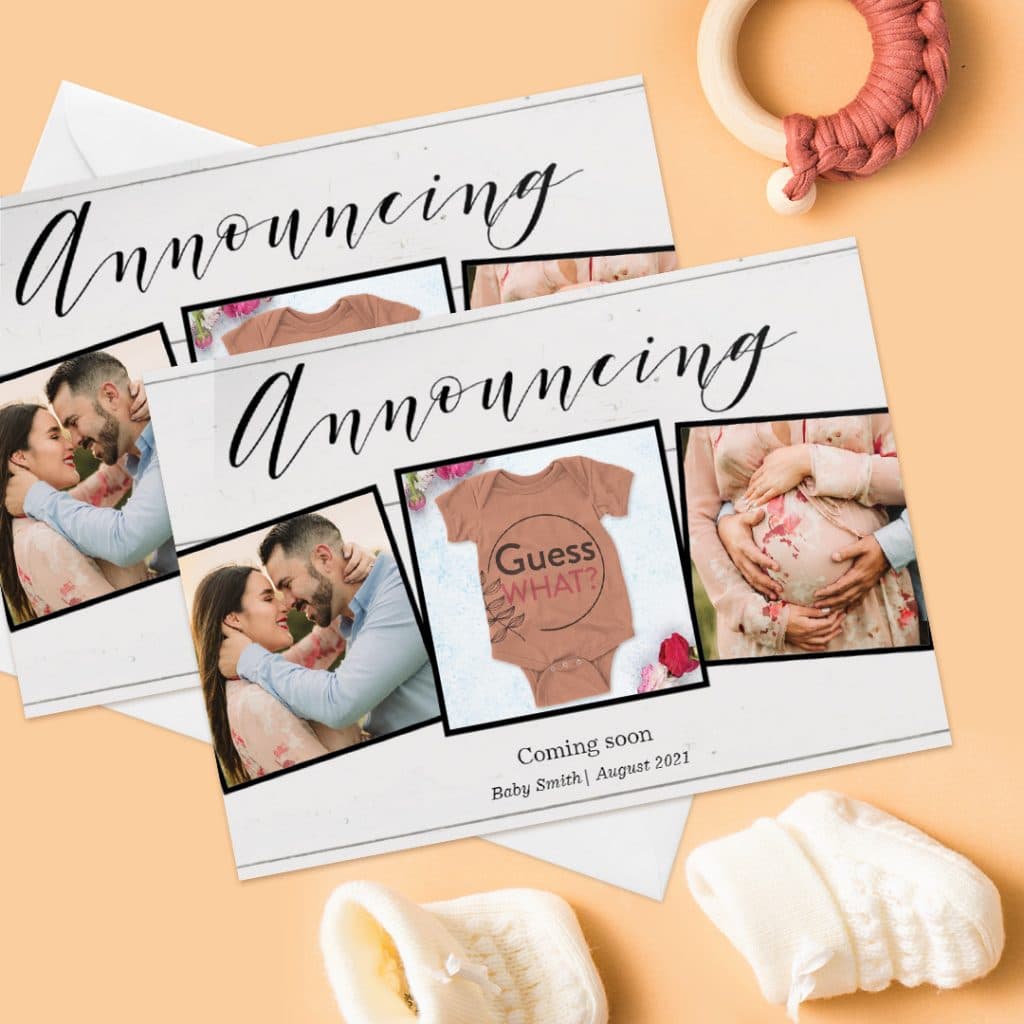 If you can't keep the news to yourself, a surprise new baby announcement allows you to let everyone in your life hear your big news at the same time. If you've been nursing a small baby bump, take the time to add photos to your pregnancy announcement card, or show some baby scans, so everyone can see what's on the way as it will make them feel even more included.
Funny Pregnancy Announcement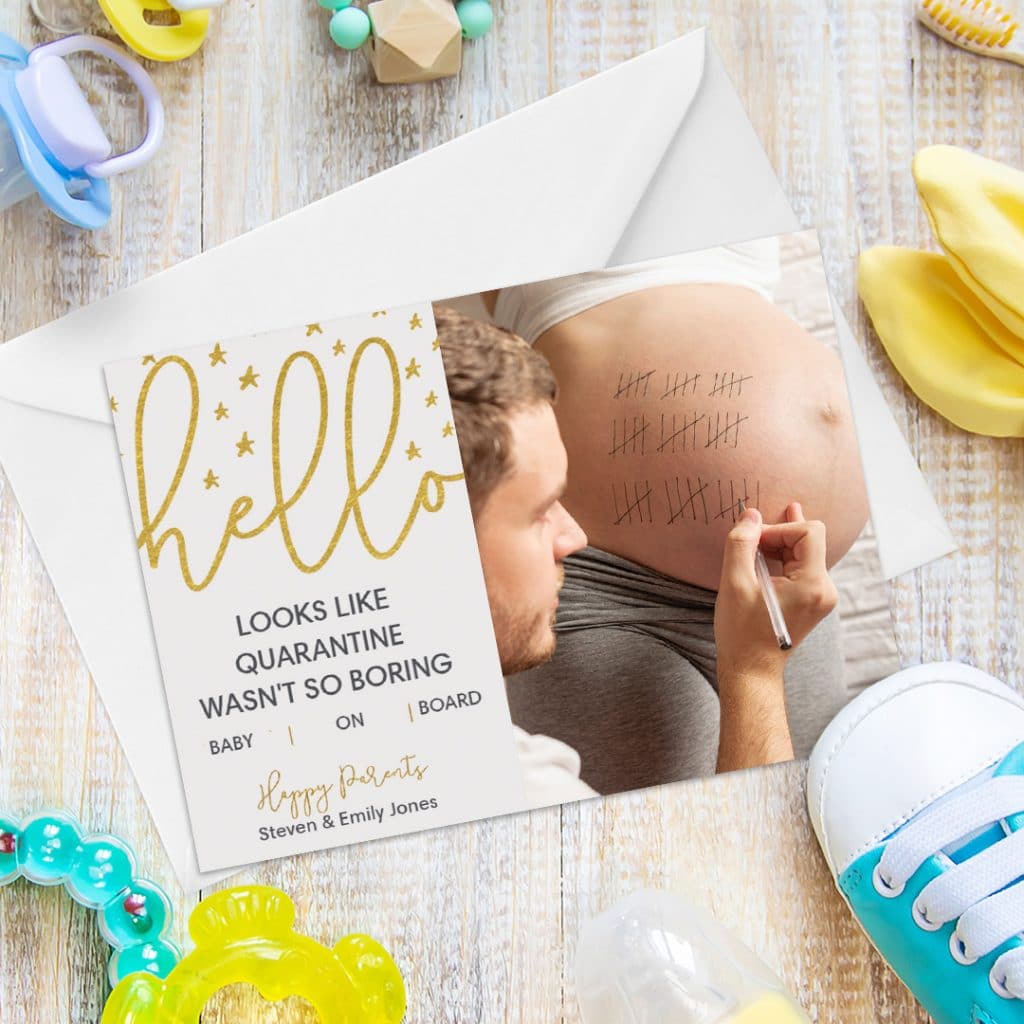 A humorous pregnancy announcement draws attention to this upcoming celebration in your life while deflecting some of the attention away from you and towards the new family member instead. Using the Snapfish editing tools you can overwrite some of the default copy, as we did in this card example, to make the message truly unique.
When you create a photo birth announcement card, you can make your loved ones smile and laugh at photos of the two of you holding signs as you face up to your new parenting role. Many of your loved ones will probably share the same sentiments and enjoy a pregnancy announcement that's refreshingly funny and honest. We love the simplicity of the 'Starry Hello Birth Announcement' design complemented by funny pregnancy photos and topical copy.
Christmas Pregnancy Announcement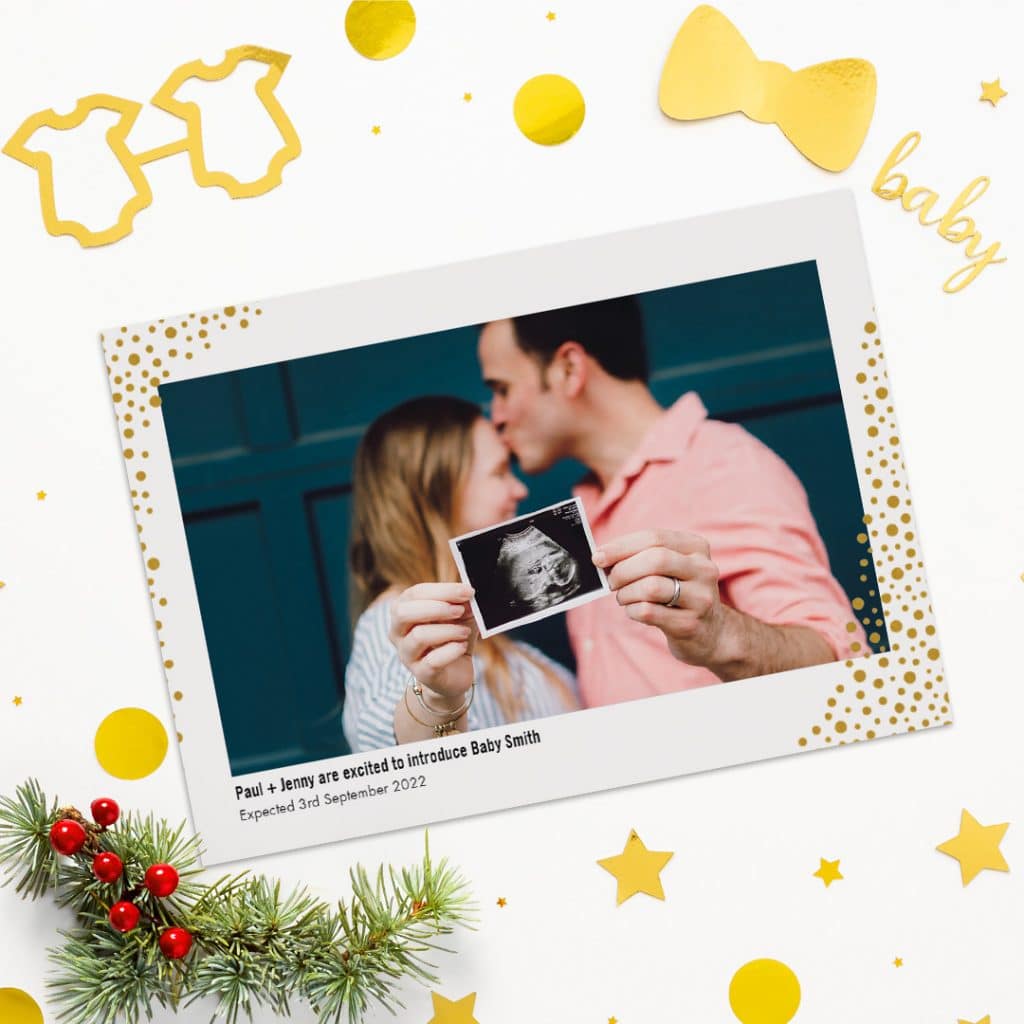 If you're several months pregnant and winter is approaching, then a Christmas pregnancy announcement can be a fun and festive update for everyone in their Christmas or New Year's greeting cards.
You might decide to focus on the 'baby bump' or show loving couple photos with the baby scan taking centre stage, and dress in seasonal colour schemes such as red, white, and green. (Or, go for full-on Elf-On-The-Shelf humour!)
Whatever you decide, you can include seasonal pregnancy messages and quotes inside the announcement card, such as, "Can't wait for the best present of them all!", or "No more silent nights" to show that you're eagerly looking forward to celebrating the upcoming festivities with your beautiful new baby in tow!
We recommend the 'New Baby Sparkles' or 'Baby Leaves' card design for festive baby announcements, as there is plenty of space to showcase your baby bump and include some highlights (such as a due date).
Follow Up With Baby Shower Invitations
After the pregnancy announcements have been sent out, you might want to think about celebrating the news with friends and family in person. A baby shower is held before the baby is due, so there is more 'me-time' for you.
Often it is not the mum-to-be, but the 'honorary aunt' who plans the baby shower party, from creating and sending out baby shower invitations, planning baby decor, and selecting the venue, as well as party games. Most baby showers are relatively small, and you can hold them at a restaurant or at someone's home where you can just have lunch or nibbles, a glass of (alcohol-free) bubbly and even play some baby-themed games.
Birth Announcement Card Ideas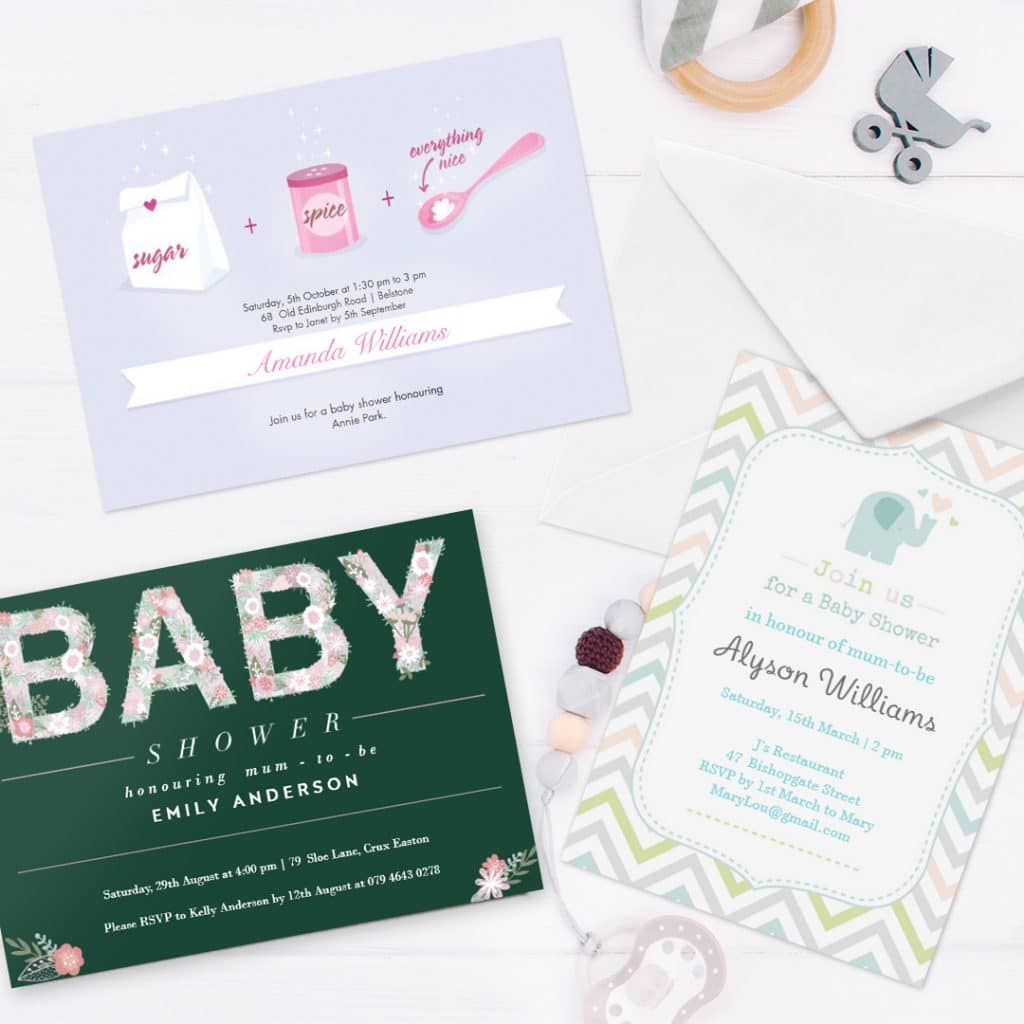 Finally, once the baby is here, you'll want to let everyone know by sending out custom baby announcement cards in the post. Include cute photos of your growing family or even some professional photos to show off your newborn (if you have them). By printing baby pictures on a beautiful birth announcement card, everyone (including family that lives far away) can get to know the little one and feel like they're right there with you.
Choose from these five birth announcement ideas to put together an adorable and sweet card.
1. Choose a glittery card design
Whether you had your baby recently or it's your baby's first Christmas, your loved ones will enjoy seeing a unique Christmas card that doubles as a baby announcement. Take new family pictures that celebrate how your family has grown over the past year, and include sweet messages about your new baby, including their name, age, and personality.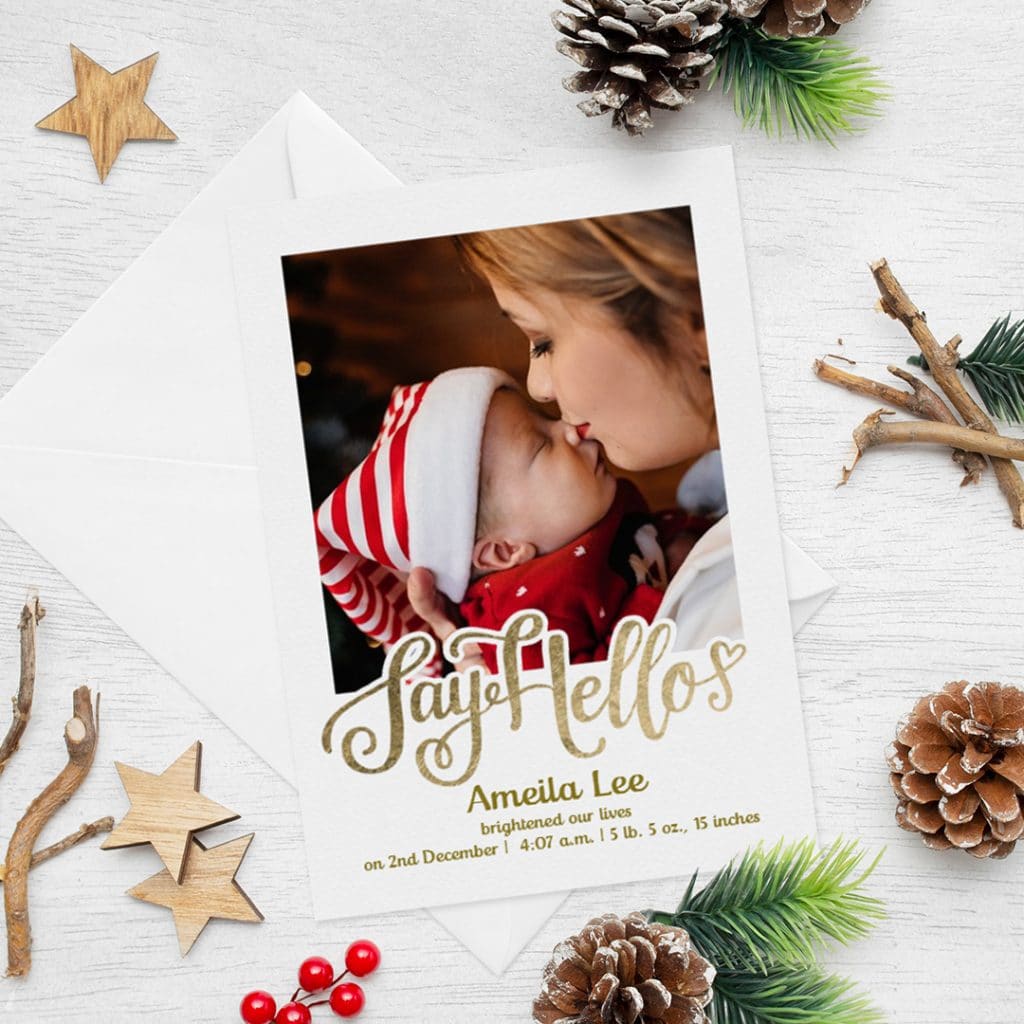 Our favourite birth announcement designs to announce your Christmas baby are:
2. Collage Photo Baby Announcement
A collage photo baby announcement allows you to share multiple photos of your newborn in our range of fun and colourful designs. Whether you had a boy or a girl, collage photo birth announcements are available in gender specific and gender neutral styles. Remember to include facts about your newborn including their name, weight, and age, next to your charming baby pictures. Keep a copy for yourself and frame it above the baby's cot!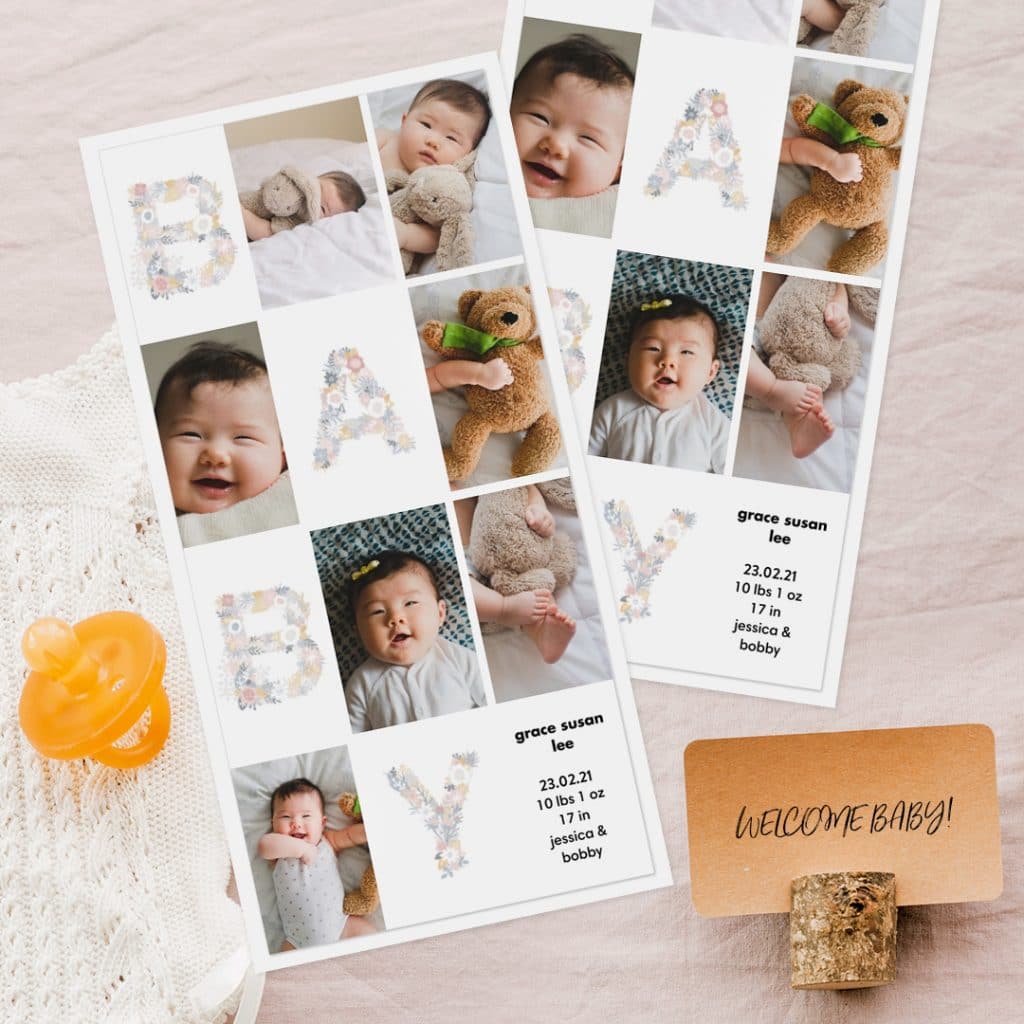 3. Non Photo Birth Announcement
Sometimes, less is more, and you want to share the news as quickly as possible. Or maybe you don't feel your mobile phone is up to the job of photographing your new family member? We have a range of non-photo birth announcements that you can easily customise with all of your lovely little baby details. Friends and family will enjoy receiving this heart-warming baby newsletter!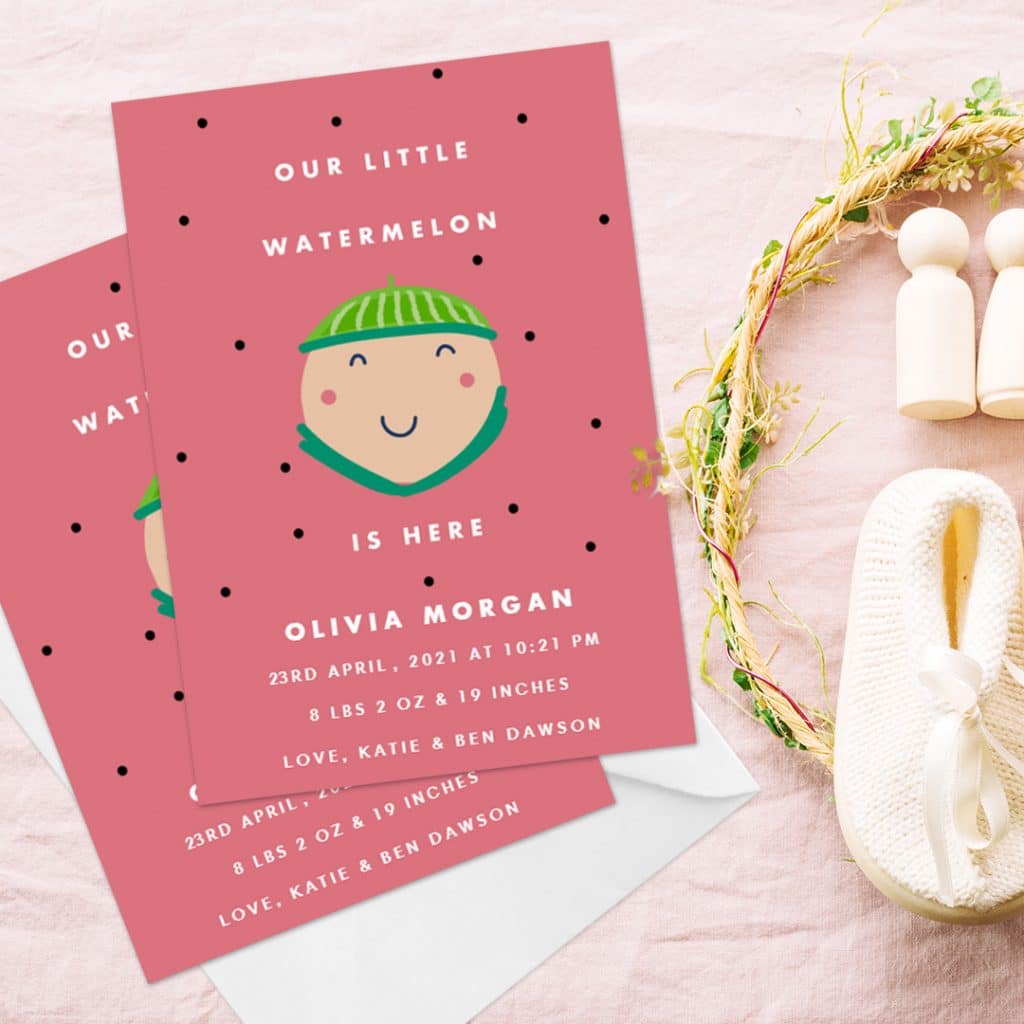 4. Infographic Birth Announcements
We love these pictorial baby announcements. They are so easy on the eye and convey so much meaning. Your family near and far will love receiving these baby updates. Keep a copy for your baby scrapbook, too!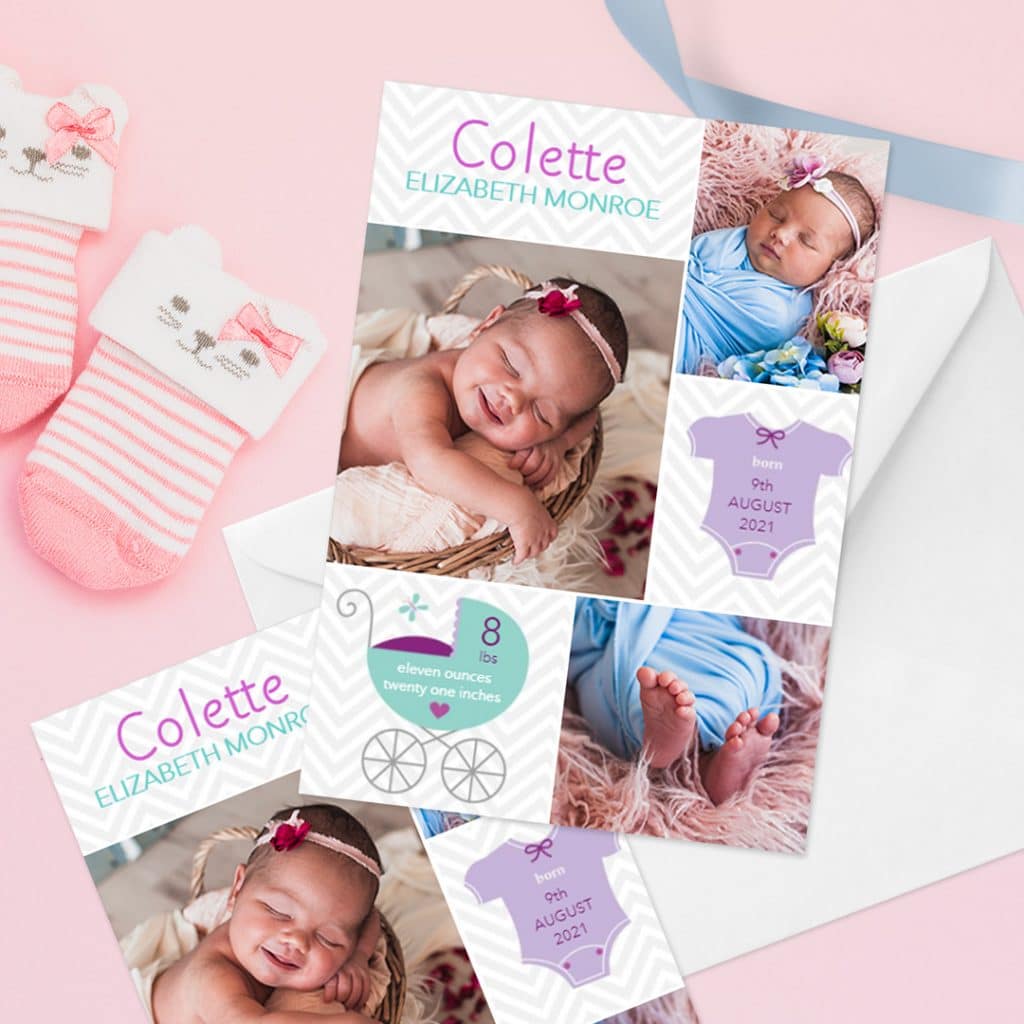 Create Baby Boy Infographic Announcement (blue) | Create Baby Girl Infographic Announcement (pink)
5. Newsletter Birth Announcements
Extra, extra. Read all about it. Hold the front page, the new arrival is sharing exclusive baby updates. Friends and family will be thrilled to receive the new baby news, hot off the press, and straight to their door!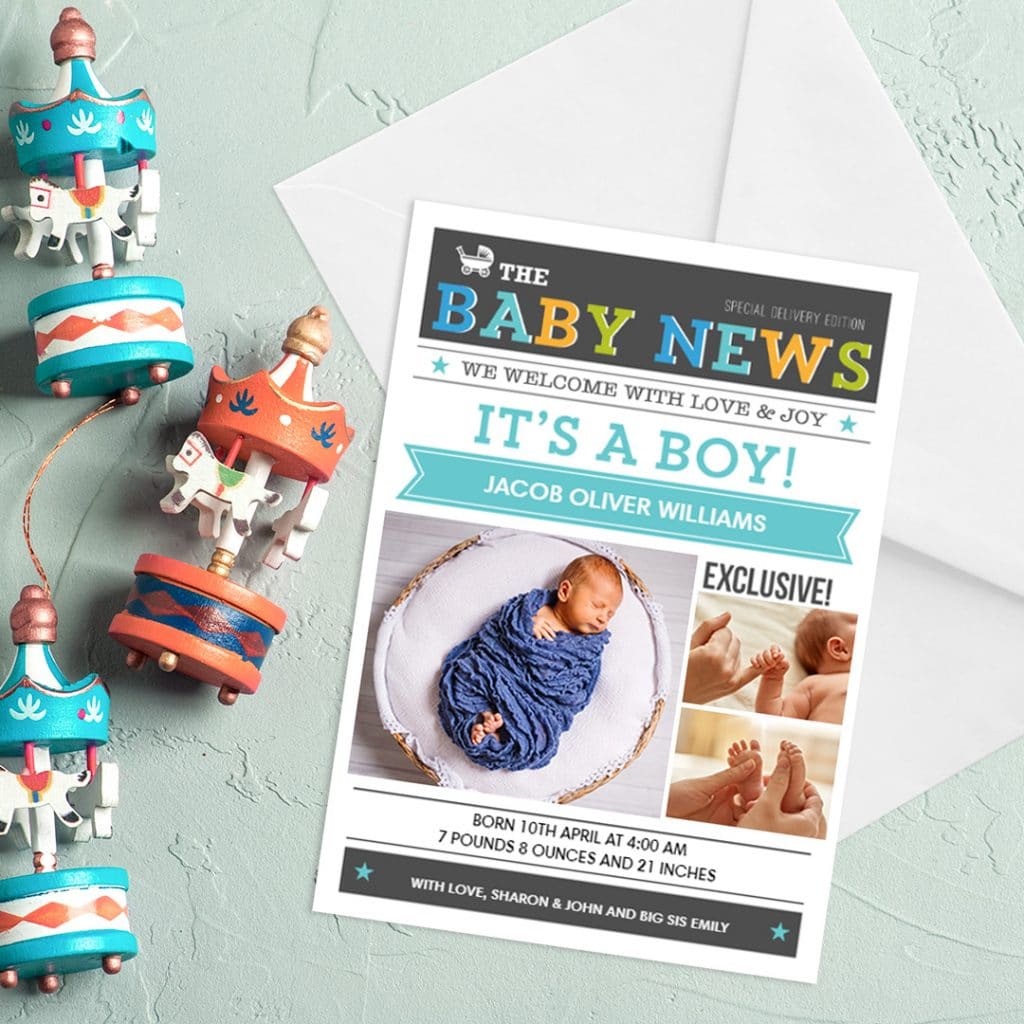 Create Baby Girl Newsletter Design | Baby Boy Newsletter Design
Messages to include in your baby announcement cards
New parents should include basic information about their newborn in any birth announcement. This may include the baby's name, birthday, weight and length, location and time of birth, parents' names, gender (especially important if the name could be masculine or feminine), and anything else you'd like to include. Here are some ideas to help you write a personalised new baby message.
Welcome to the world, (baby name)!
Meet the new love of our lives, (baby name).
The wait is finally over! We're thrilled to welcome (baby name).
Hello, world! Introducing our bundle of joy (baby name).
On (birth date), we were blessed with the arrival of (baby name).
Dreams do come true!
It's official! (Baby name) arrived on (birth date).
Hello, my name is (baby name).
(Parents' names) welcome the newest addition to the family, (baby name).
(He's/She's) here at last!
Quotes for Baby Announcements
"Ten little fingers, ten perfect toes, fill our hearts with love that overflows."
"If I am thinking correctly," said Pooh, "a new baby is probably, undoubtedly the grandest gift that could ever be."
"Every child begins the world again." – Henry David Thoreau
"A baby fills a place in your heart you never knew was empty."
"Behold, children are a gift of the Lord." – Psalm 127:3
"Every good and perfect gift is from above." – James 1:17
Having a new baby is one of the biggest, most exciting changes in anyone's life. Family and friends might be looking for custom baby gift and home decor ideas to help you put the nursery together. As parents, you will love quirky touches like custom cushions for the nursing chair, personalised fleece cot blankets and even thoughtful photo tiles printed with fun baby designs. Your babies will also develop their own preferences quickly, and they'll enjoy fun toys and activities like playing card games and photo story books.
As your baby grows, don't forget to save all your photos and add them to a personalised photo baby book. You can even create some simple baby milestone cards using your 50 free photo prints from the app! After photographing each and every milestone, you'll have a special way to look back at precious memories and keep all your photos as keepsakes in a professionally-printed photo album.
Snapfish + Macmillan are working in partnership to raise vital funds. For every greeting card or flat card set sold, Macmillan receive up to 15p.
Which baby announcement card did you customise? Share it with us on social media! You can tag us with @snapfishuk in your photos on Instagram or Facebook or use the hashtag #snapfishuk. Follow us on YouTube, Twitter and Pinterest, too. Check out the Snapfish site for even more new products that parents and kids alike will adore!