As the year draws to a close, we think of New Year and what we want to do better, and we also want to hold the best memories of this year close. Snapfish has a wealth of personalised gift ideas to make 2021 start on the right footing.
1. Write it down & stay organised
Thank you cards and stationery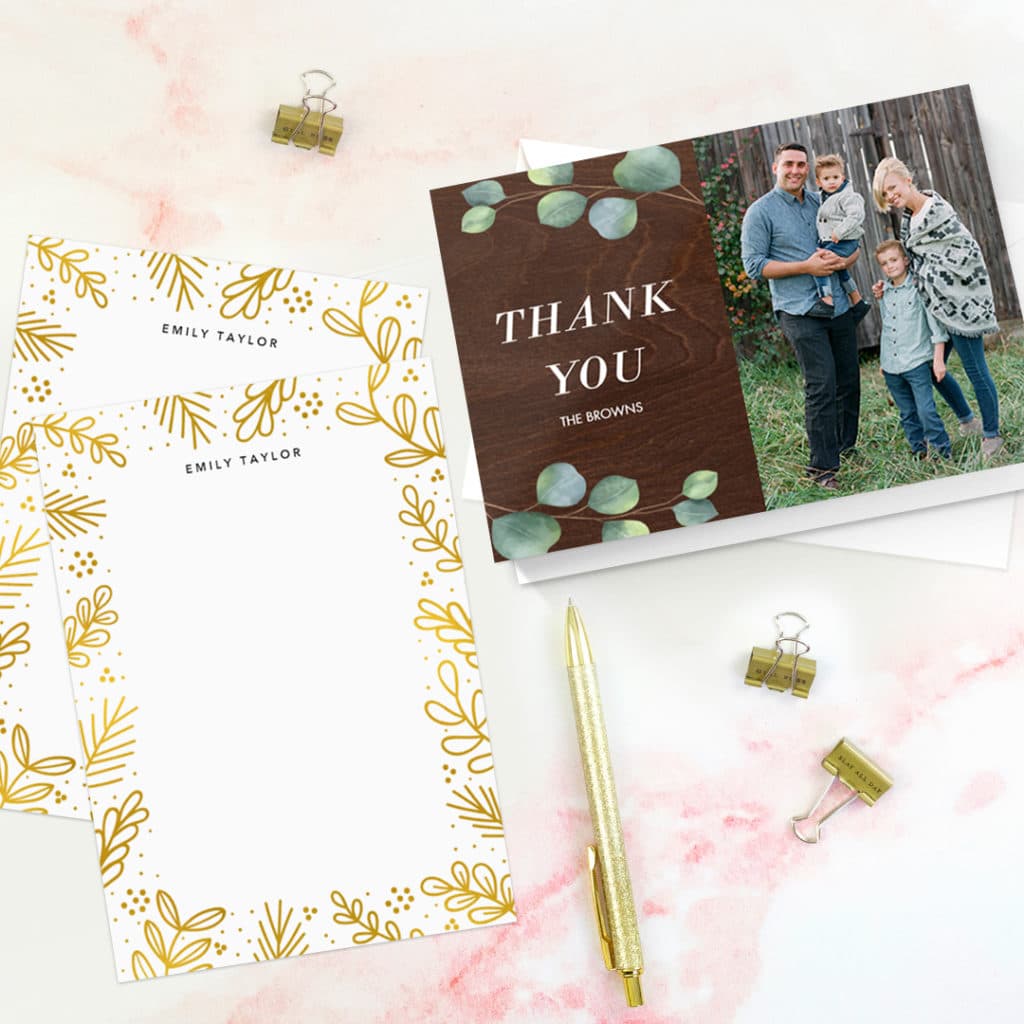 Personalised stationery, personalised thank you cards & notecard sets are perfect for writing a quick thank you – at Christmas or any time of the year. Snapfish have 100's of design templates to get you started or you can create your own designs from scratch – with or without photos.
Record your New Year Resolutions in custom notebooks & journals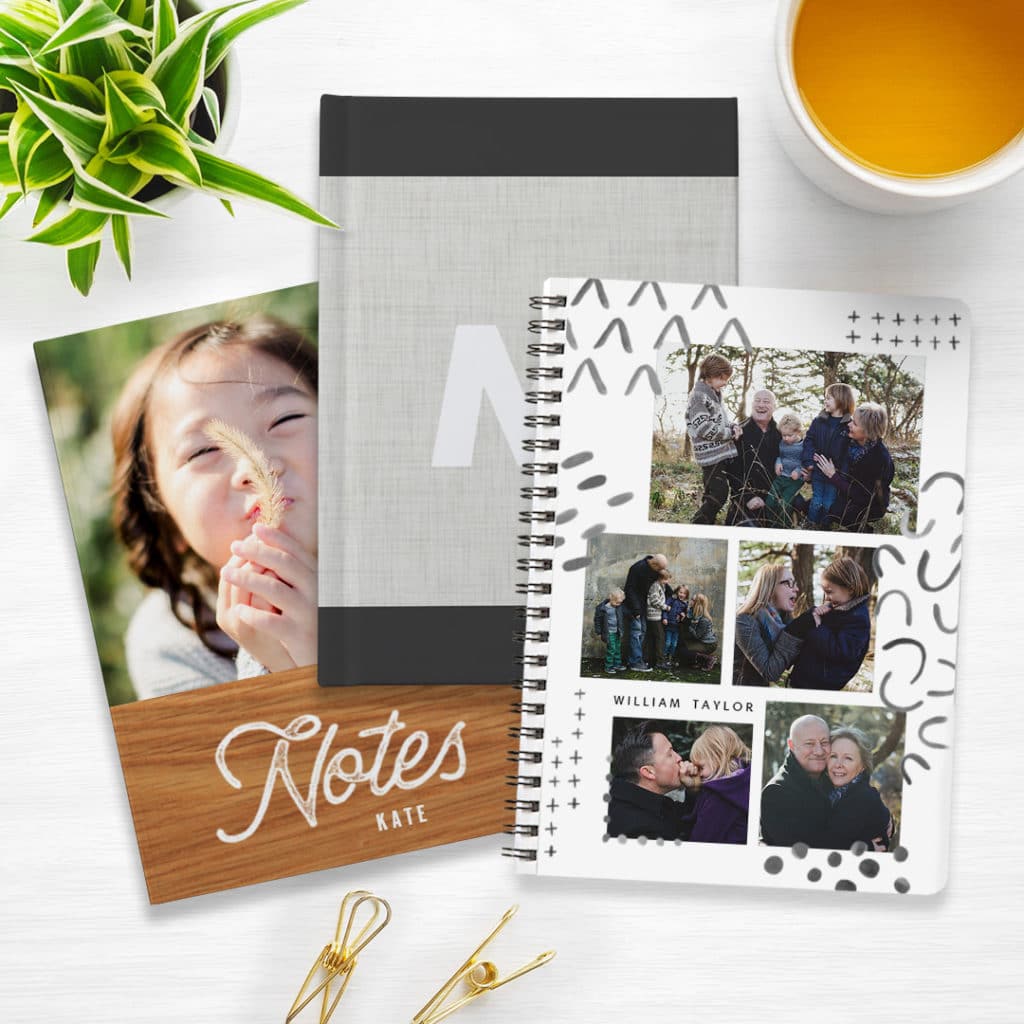 Snapfish diaries are a great way to organise your life and remind yourself of your happy memories on the cover – every time you open it. Snapfish diaries run January to December and there is plenty of space to record all your daily tasks and thoughts.
Notebooks are available in hard and softcovers with perfect and spiral binding options and are ideal for carrying your to-do lists with you.
Read our other notebook ideas on the Blog: Create custom notebook designs | New personalised notebooks | Custom notebooks and diaries
2. Never forget those important dates with Custom Photo Calendars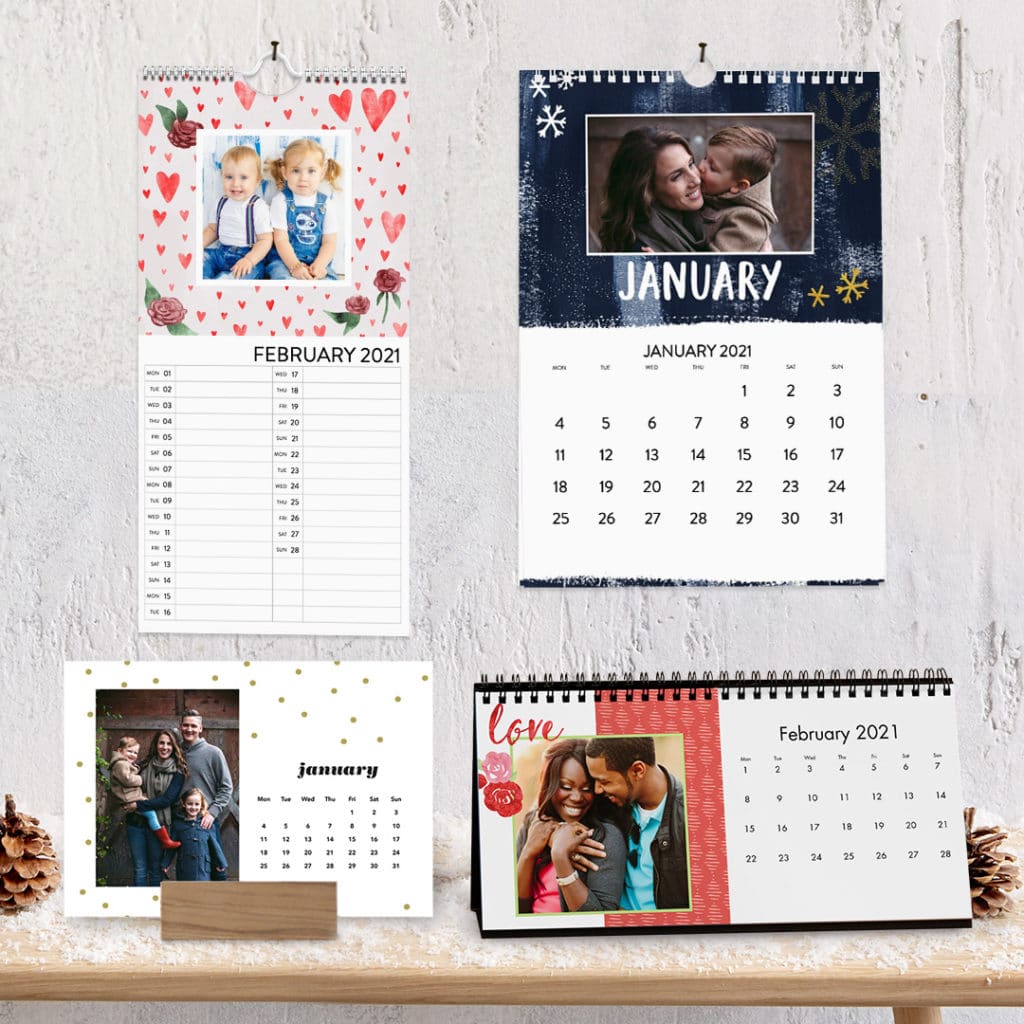 Calendars are perfect for every setting. Choose from 10×5" desk calendars and 8×6" refillable wood block calendars for the desk & table-top, or slim 5.5×12" kitchen calendars and a wide array of wall calendars (from 6×8" to 14×22") to make recording the dentist appointments that little bit more fun.
Add inspirational quotes and great photos of your favourite memories to make your calendars a piece of art too!
For more calendar ideas, read our other blog posts: New wood block calendars | Personalised calendars the gift that gives all year long | Make 2018 an organised year | 2017 guide to photo calendars
3. Celebrate your best memories in custom photo books
Year in Review Photo Books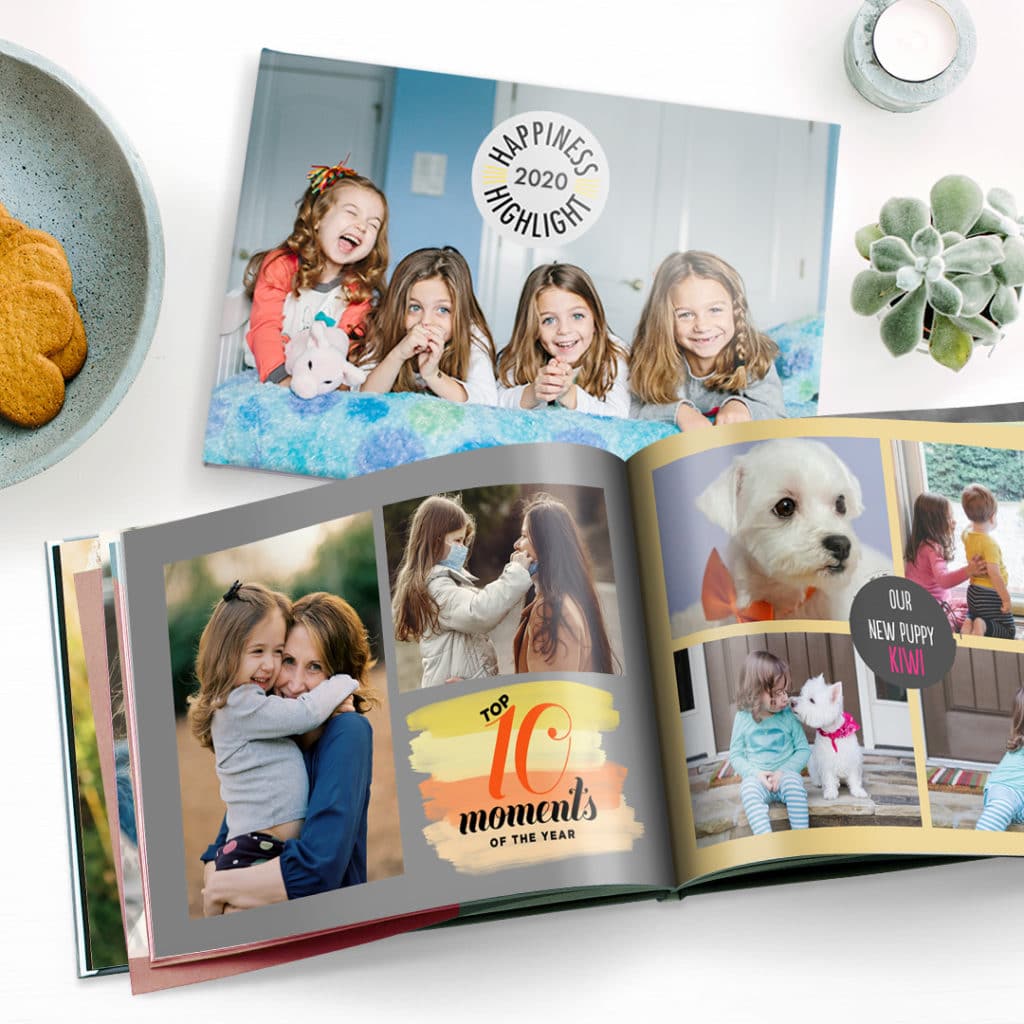 Photo Books are perfect to showcase your best life and to remind you of what is important to you. You can even create photo books in the Snapfish App: https://www.snapfish.co.uk/blog/photo-books-in-the-snapfish-app/.
Read more photo book ideas in our Blog at: Family Photo Book | 10 genius tips for creating travel photo books | 5 tips for a pawsitively perfect pet photo book | Customer creation treasuring those family memories
Tip: Check https://www.snapfish.co.uk/year-book for our best selling year in review photo book layouts and make your story into a beautiful printed photo album.
4. Create Zodiac Themed Mugs to celebrate the New Year
Say Goodbye to 2020 and welcome in 2021. 2021 is the Year of the Ox – so was 2009, 1997, 1985, 1973, 1961, 1949, 1937, 1925 and 1913 – so if you know anyone born in those years, Snapfish has the perfect personalised photo mug as a New Year's gift for them.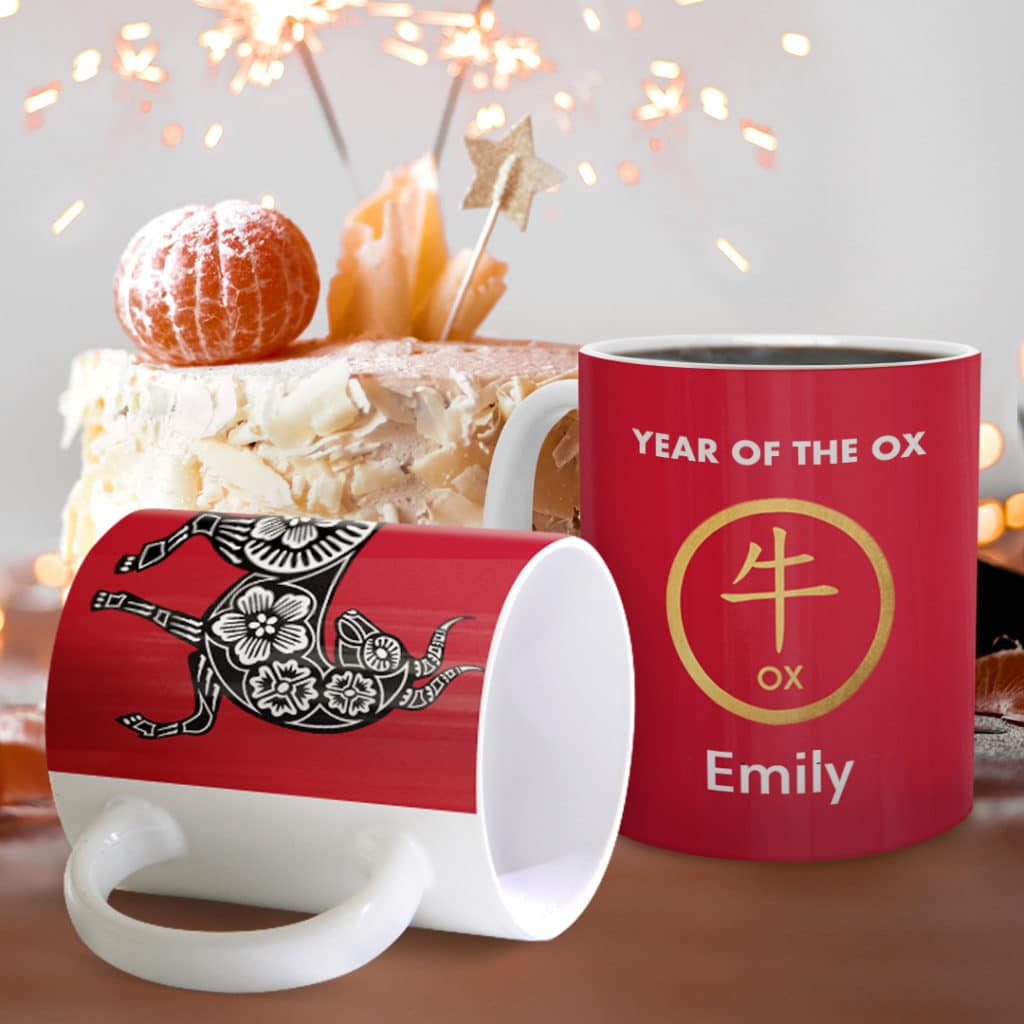 For friends and family born in other years, how about checking out our range of Zodiac and Chinese New Year mug designs.
Tip: You can find a more detailed list of Chinese New Year Animals on the blog.
Snapfish Lucky Animal Mug Designs will perk up any morning. Why not create one for every member of the family? It's easy to create a custom mug with your animal, photo and your name.
What's your Zodiac Animal?
Chinese Zodiac Animals have lucky meanings. There are 12 Lucky Animal Signs, and it's believed that people born in a given year have the personality of that year's animal. People born in a certain animal year are believed to have attributes of that animal, which could either help or hinder a relationship. What could be more fun, than to gift your friend a personalised mug with their Chinese Zodiac animal and see if they match the personality traits?
Create one for each of the members of your morning coffee circle to ensure perfect harmony before your daily caffeine fix? Happy New Year or 新年快乐 as they say in China. Read our blog to find out more: https://www.snapfish.co.uk/blog/custom-chinese-new-year-astrology-symbol-mugs/
5. Make your health-kick last Jan 2nd with personalised gym accessories
We all like to make New Year's Resolutions to go to the gym or do our bit for the planet. Make it more fun with Snapfish photo gifts. The key to staying motivated in any new venture is making it fun!
We've rounded up our favourite personalised gym accessories to help you gear up and keep your fitness goals on track.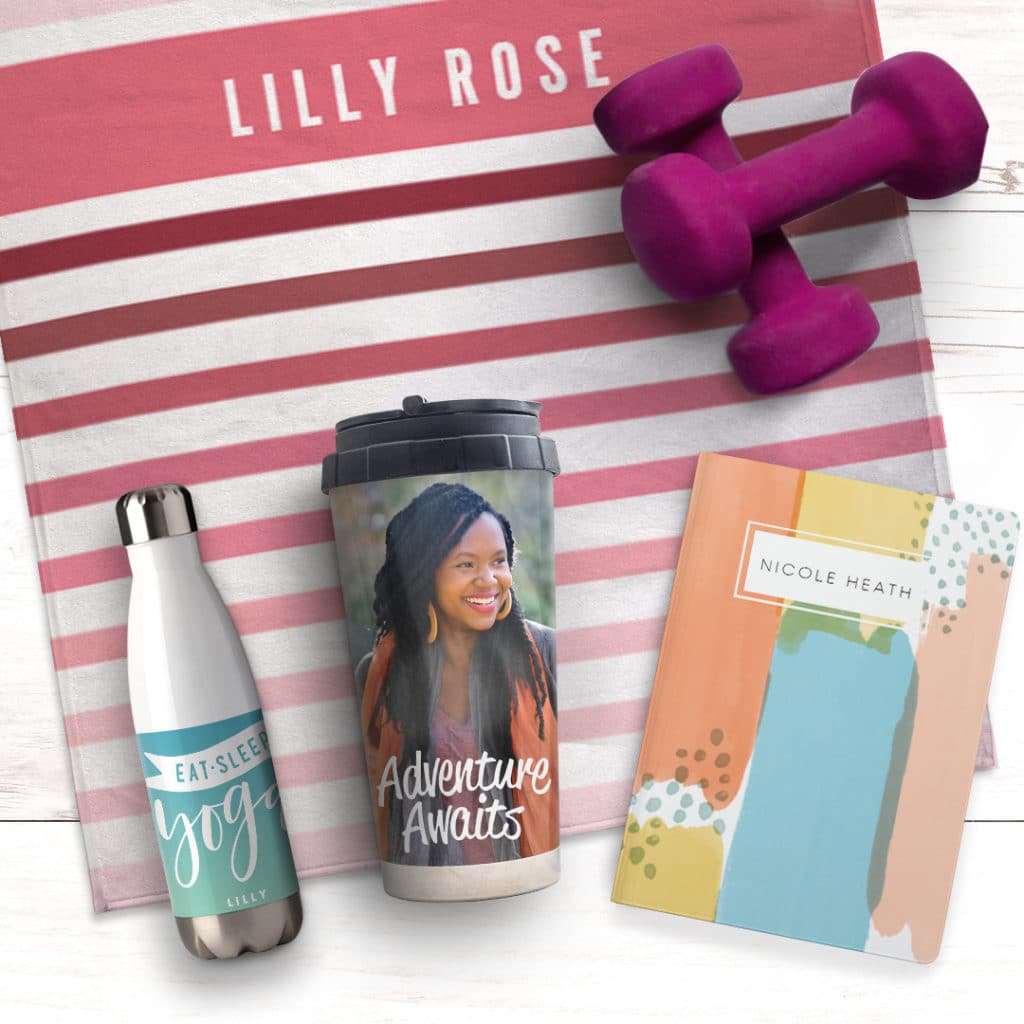 Personalised Notebooks + Journals
Make your own Softcover Notebook, the perfect place to track your fitness goals. A luxurious velvet-touch matt laminate soft paper cover holds 100 perforated, easy tear-out leaves of paper to give you 200 pages to write on. This flexible notebook features rounded corners to help prevent them from bending in your gym bag or locker.
Gym Towels
Luxuriously soft and absorbent Snapfish Beach Towels are perfect accessories for the gym – you can personalise your towel with your name so you don't have to worry about losing it.
Water Bottles
Stay hydrated after your work-out and help protect the environment with a re-usable water bottle. These insulated metal water bottles are made out of vacuum-insulated double-walled stainless steel, a leak-proof screw top lid, and a mouth wide enough to accommodate most ice cubes, these popular personalised hydration flasks keep your drinks cold for hours. These personal metal water bottles are the perfect travel companion for your fitness class, the office, or carrying along on a picnic.
Reusable office coffee mugs and travel mugs
Avoid those single use coffee cups. Create a personalised latte mug or photo mug (coloured, glossy and matt mug options available) and add your name so the barista will never call you the wrong name again. Like to drink on the school run/ office commute? Try our personalised travel mugs.
For more gym ideas read our Blog post: Personalised gym accessories that are custom fitness goals
Snapfish + Macmillan are working in partnership to raise vital funds. For every greeting card or flat card set sold, Macmillan receive up to 15p.
How will you celebrate your New Year goals? We can't wait to see how you'll make this your best year ever! Tag us @SnapfishUK and #snapfishUK on Pinterest, Instagram or Facebook when you share your personalised New Year Inspirations.