Enjoy our tips on creating your ideal photo book and document all of your newest family member's firsts!
How To Create The Perfect Baby Book
They don't stay tiny forever. Capture all of your baby's firsts and remember how adorable they once were with lovely, high-quality photo books.
A great baby book must capture the sense of wonder and blessedness that comes with having a new child in the home. It should mark milestones and inspire an appreciation for the little one's earliest discoveries and triumphs. Here are our top photo book ideas for you:
Origin Story
One of the best ways to commence a new baby photo book is to start at the very beginning. Share magical photos from Mum and Dad's love story. Tell the tale of planning for the baby, and proud pregnancy moments all the way up until the big day!
Peekaboo!
An ultrasound picture is Mum and Dad's first glimpse of their precious little one and this definitely merits its own page in a baby photo book! You can use the ultrasound picture as the centrepiece and surround it with hospital visits from loved ones and friends.
Party Time!
The baby shower and/or gender reveal party is a highlight in the lead-up to the due date; it deserves a two-page spread in your book, at the very least! Pro tip: during the shower, assign someone as the official photo/video taker so you can truly kick back and be present in the moment. Remember to create your personalised baby shower invites too!
The Main Event
If you're comfortable with the idea, document your trip to the hospital, labour and, most importantly, the first time you get to hold your little one. What did your birth plan say? What was the name of the midwife? Think ahead, capture every major moment and pay tribute to every important person you can think of! Create a lasting memory of the journey your newborn has had – a photo book of baby firsts you can look back on for years to come!
New Parents
When there are tough photo decisions to make, opt for the ones that include Mum and Dad in the frame. Milestones are key in your photo book. A series of shots of Mum feeding or Dad cradling the baby could lovingly commemorate their adaptation to their new roles as proud mother and father. Read our Baby Milestone Photo Blog to inspire your photo ops.
Around the World
Provide a real sense of time and place for your baby's photo book. What was the world like when baby was born? Any incredible world events and historical moments? Share a photo collage to give vivid context to your baby's introduction to the wonderful, wide world around them.
Step By Step
Safeguard treasured mementos (such as hospital wristbands) and record key first moments, like meeting their grandparents for the first time, in a stunning hardcover, for a visit to memory lane anytime you desire! Stick them into your photo book to create a truly unique personalised baby album.
Baby On Board!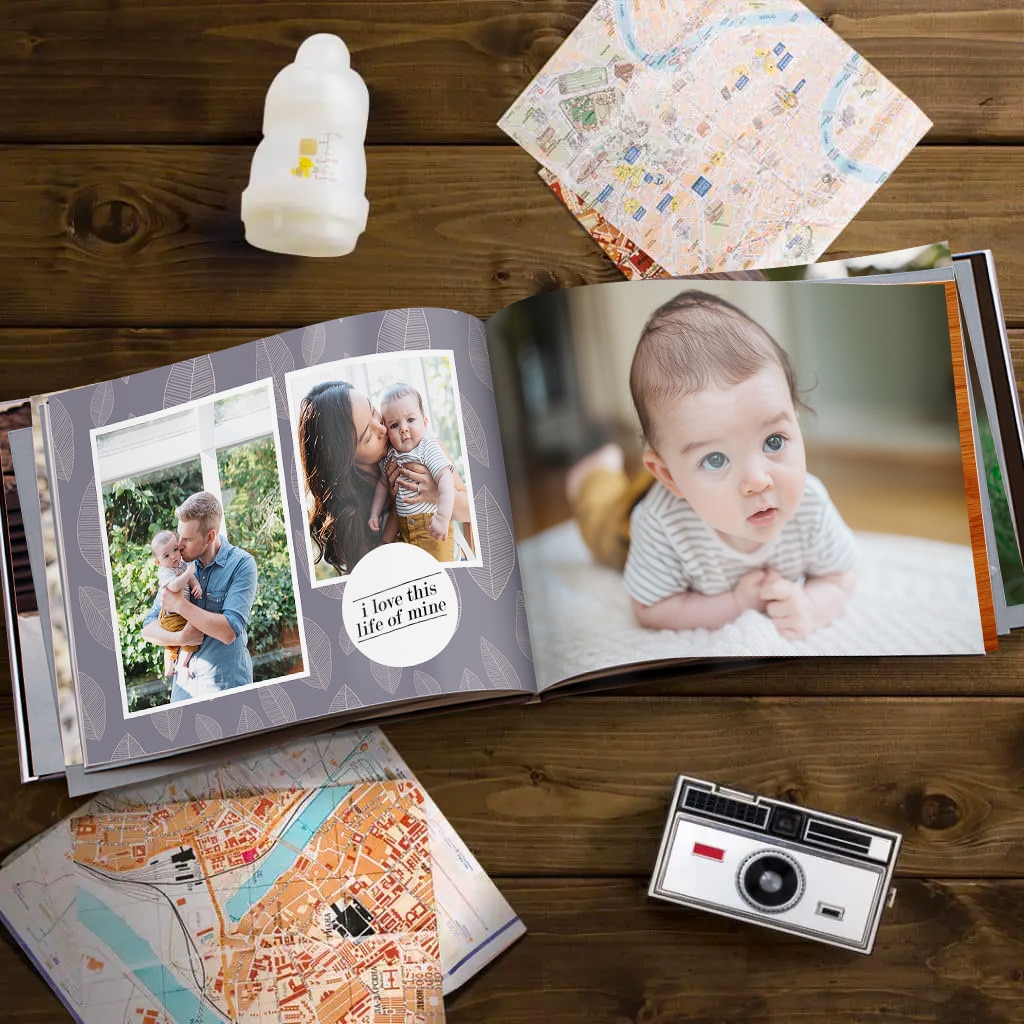 Scrap all the less-than-glam times and remember only the highlights from baby's first family vacation, road trip, visit to the countryside and zoo. A photo book of all your baby highlights (not the low-lights)
Up and Down
Create a photo book as fun to flip through as witnessing your baby's changing moods and various facial expressions and priceless reactions as they explore the amazing world around them.
Celebrate!
Top off a fantastic first year with a wonderful book commemorating their first year on Planet Earth! (This baby photo book will make a perfect gift for relatives, grandparents or godparents.)
Time flies
Keep track of their growth and rapidly changing appearance with a baby milestone book or card to mark the weeks or months they've been bringing joy to your lives! Find out how to capture baby milestone moments.
Baby Face
Create a new baby photo book or photo gift that really makes the most of that spectacular smile. Warm fuzzy feelings, guaranteed!
We can't wait to see your beautiful baby books! Show us your creative flair by tagging us on Instagram #snapfishuk or posting to our Facebook page @snapfishuk!