In light of the pandemic, many of us understand the importance of maintaining social connections and most will be looking for ways to make festive traditions more central this year. So, this year, expect to see a lot of Christmas gifts and home decorations customised with strong sentiment and meaning.
Even with more opportunities for socialising, the home will remain a focal point, with festive decor, activities, and entertaining items essential to seasonal gatherings. Read on for customised Christmas gift ideas to help you create presents with added significance, spread much-needed joy, and even sprinkle a little extra sparkle this season.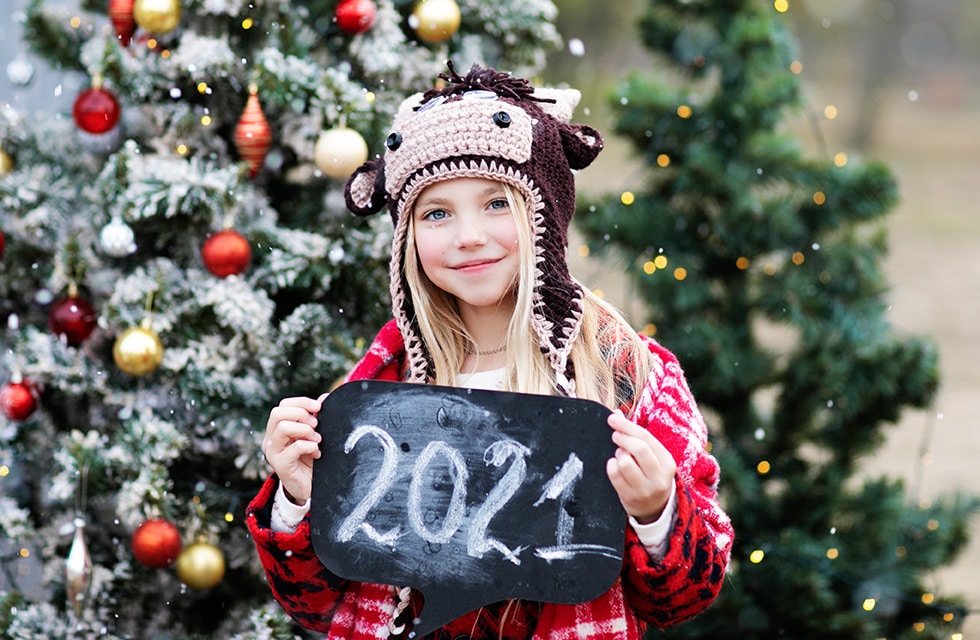 The festive season is fast approaching and the next several months will offer plenty of fun shopping and gifting opportunities, from hosting Halloween parties and Christmas gatherings, to celebrating New Year's Eve. As you map out your seasonal to-do list, read our blog on starting Christmas shopping early, consider the key festive dates below and start thinking about your own festive decor and Christmas gifts!
Important dates:
31st October: Halloween
4th November: Diwali
5th November: Bonfire Night
26th November: Black Friday
Remember to check out all the latest Snapfish deals
28th November – 6th December: Hanukkah
28th November – 24th December: Advent
29th November: Cyber Monday/Week begins
6th December: St. Nicholas Day
Why not inspire some early Christmas spirit by leaving a custom notebook for those last minute letters to Santa, or other festive gift, customised from St Nicholas, on the breakfast table for your loved ones that morning?
24th December: Christmas Eve
Why not start the Christmas magic early by creating a custom Christmas Eve box full of festive treats, like unique photo tree ornaments, or personalised tins full of chocolate tree decorations to add to the tree before bedtime?
25th December: Christmas Day
26th December: Boxing Day
26th December – 1st January: Kwanzaa
31st December: New Year's Eve
Remember, you can order your New Year party invites, personalised with your details on Snapfish
1st January: New Year's Day
Key Trends for 2021 Christmas Gifting
As the pandemic continues to drive social and economic uncertainty, people are looking for sentiment in their presents. Themes related to togetherness will be key this Christmas season, as people hope to see loved ones in person this year. Even for those who can't physically gather, finding creative ways to connect will be top of mind.
Sentimental gifting: Within this trend of extra thoughtful gift-giving, personalised and unique Christmas gifts are sure to shine. Top favourites each year include photo books, calendars and mugs.
Focus on experiences: Shoppers may be increasingly focused on experiences and activities that help them make new memories together. Gifts like DIY recipe photo books, chopping boards, tea towels and placemats to personalise the home with friendly faces will likely be very well-received.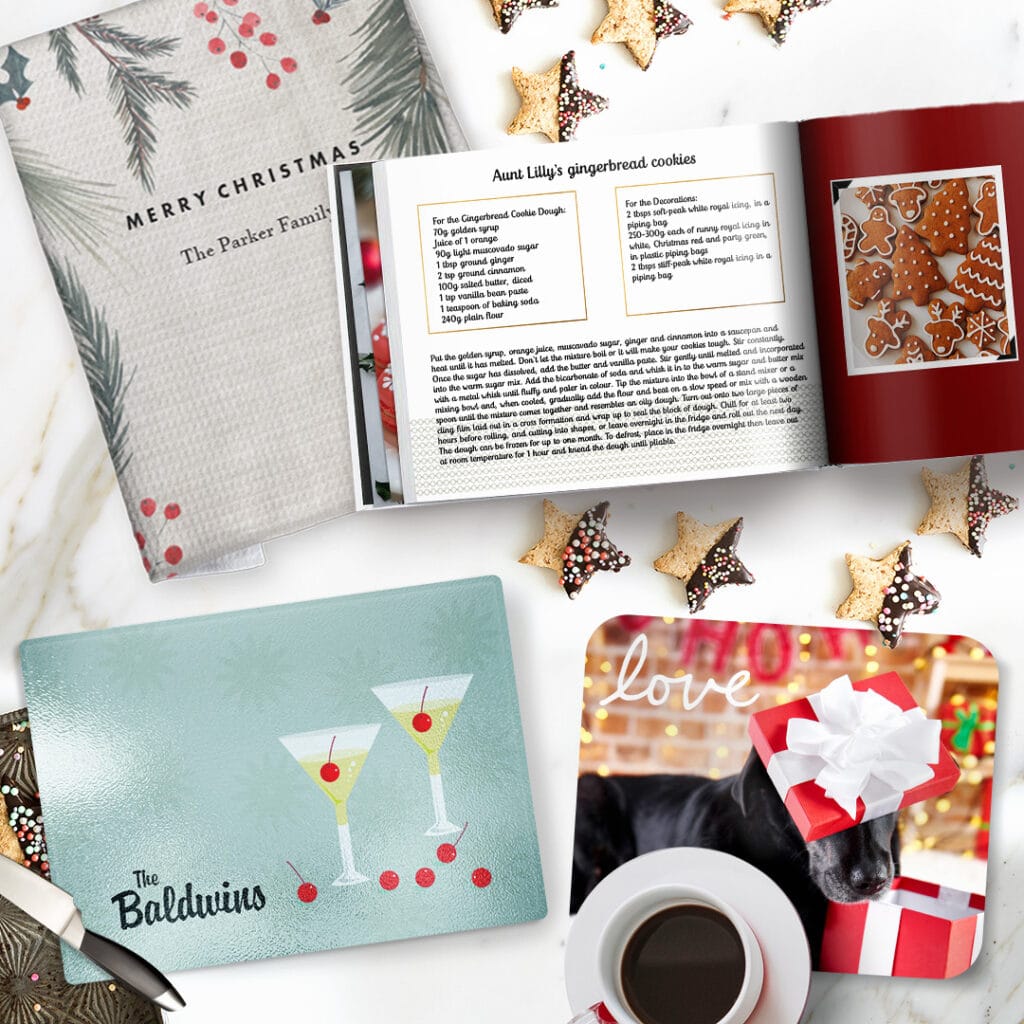 Novelty items: How about a fun photo bottle opener, or a custom keyring that doubles up as a fun label or bag tag? Magic mugs are a perennial favourite as the picture is only revealed when the hot drink is added! Photo Booth Fridge Magnets and Heart Shaped Magnets will make your fridge's little art gallery totally unique.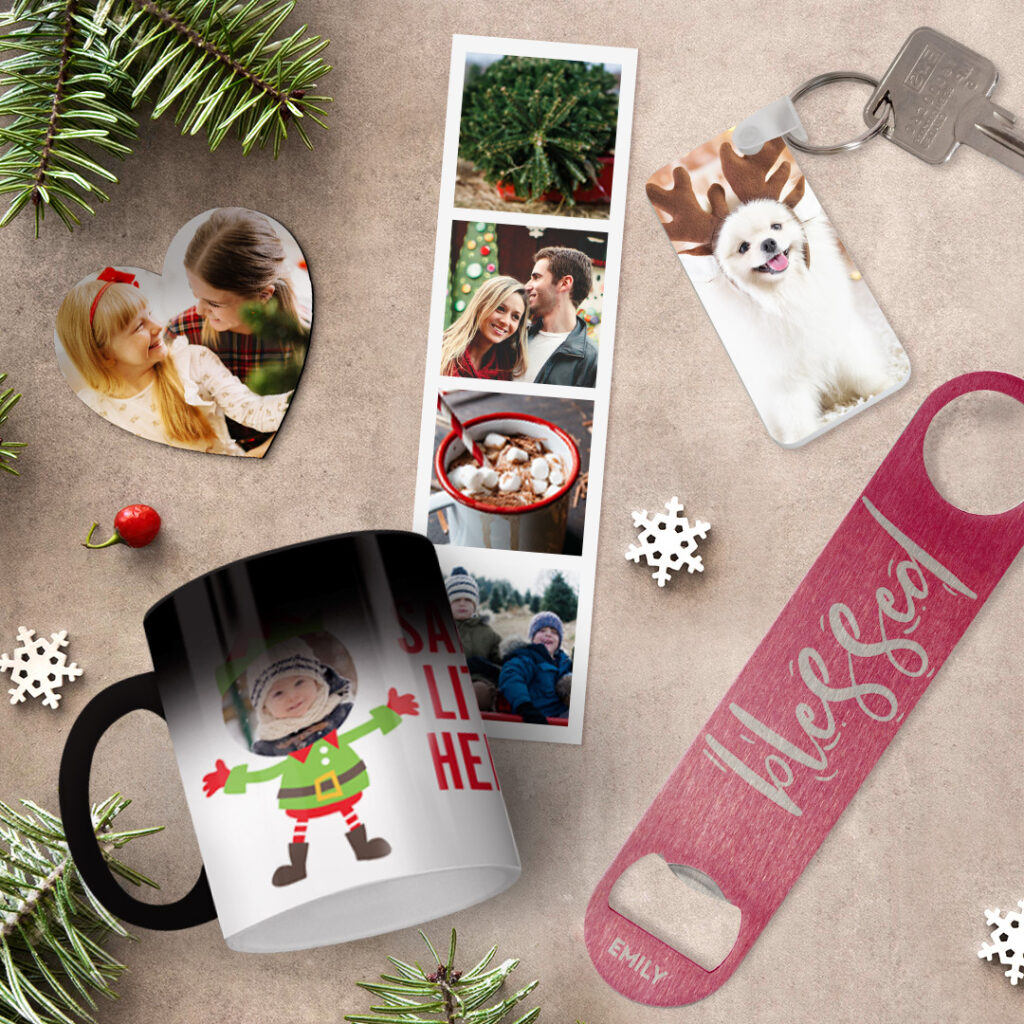 Key Looks For The Festive Season
A cottagey aesthetic continues to reflect a move towards nature, as people spent the last year seeking out the outdoors for calm and escape. Designs and digital embellishments featuring branches, dried flowers, foliage and woodland creatures will bring nature into home décor products like custom cushions and personalised blankets.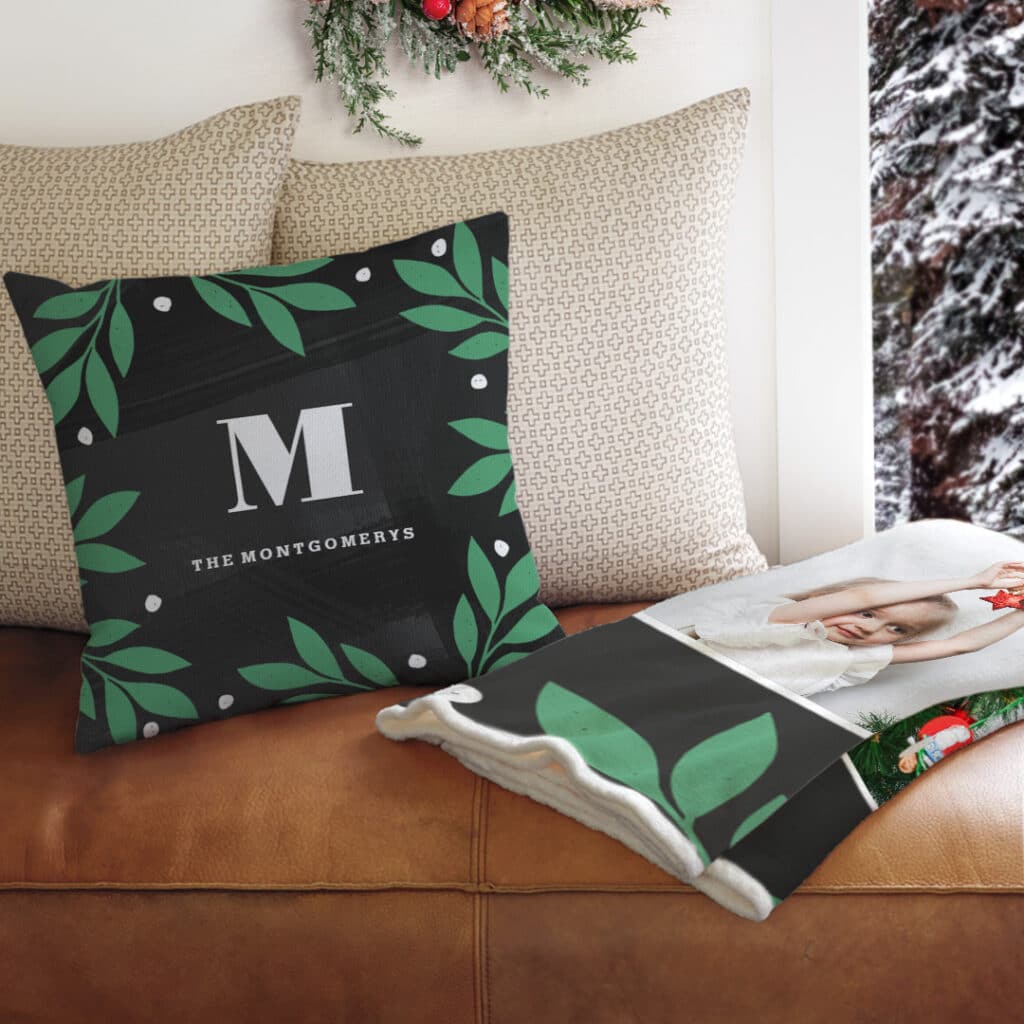 Nostalgia is a common theme around the Christmas season, and we have some gorgeous, cosy decor designs reminiscent of a cherished grandparent's house.
An expanded colour palette brings Christmas cheer to life. Christmas will feel extra fresh thanks to jewel-toned teal and warm golds, as well as white and silver sparkles. Check out our newest Christmas card designs.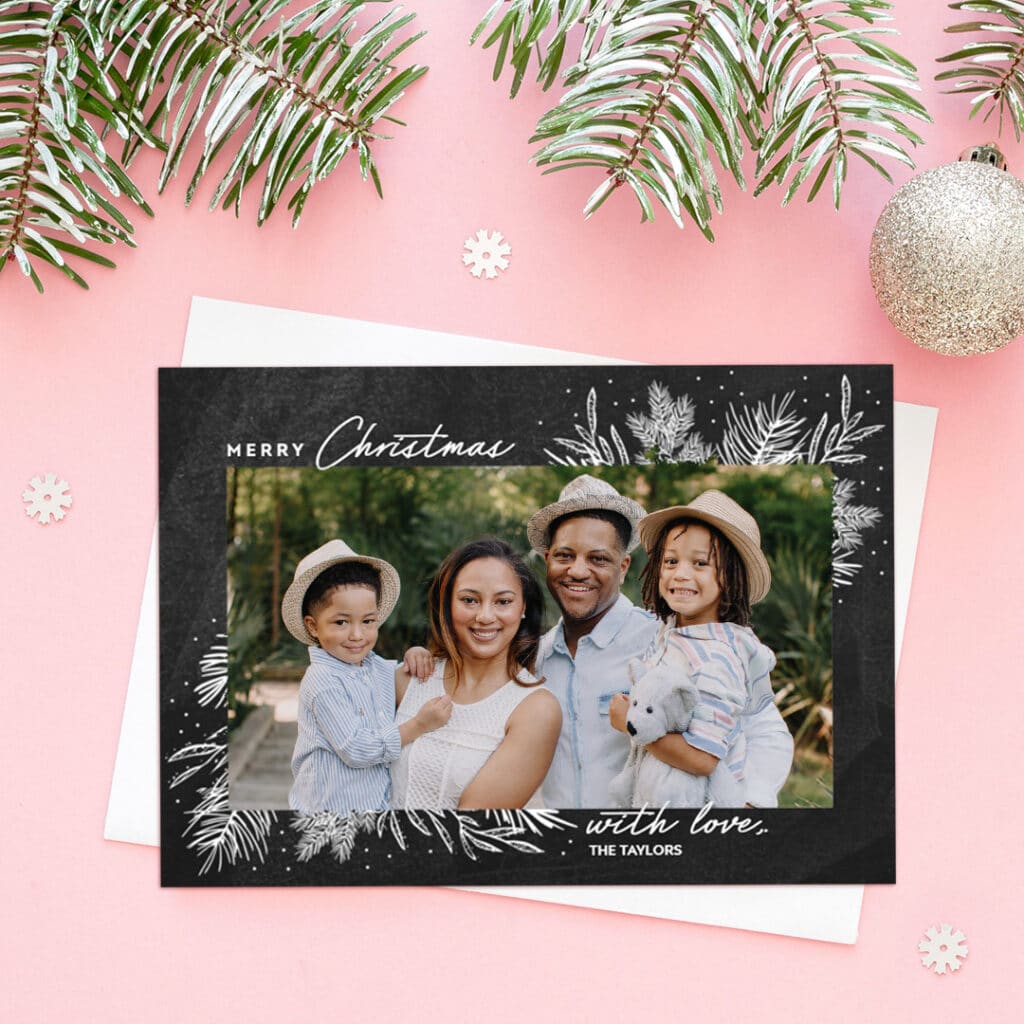 Expected Best Sellers For Christmas 2021
Custom and personalised portraits – framed prints, photo canvas, metal and acrylic prints for the wall or table-top, or even your own mini magnet portrait gallery on your fridge!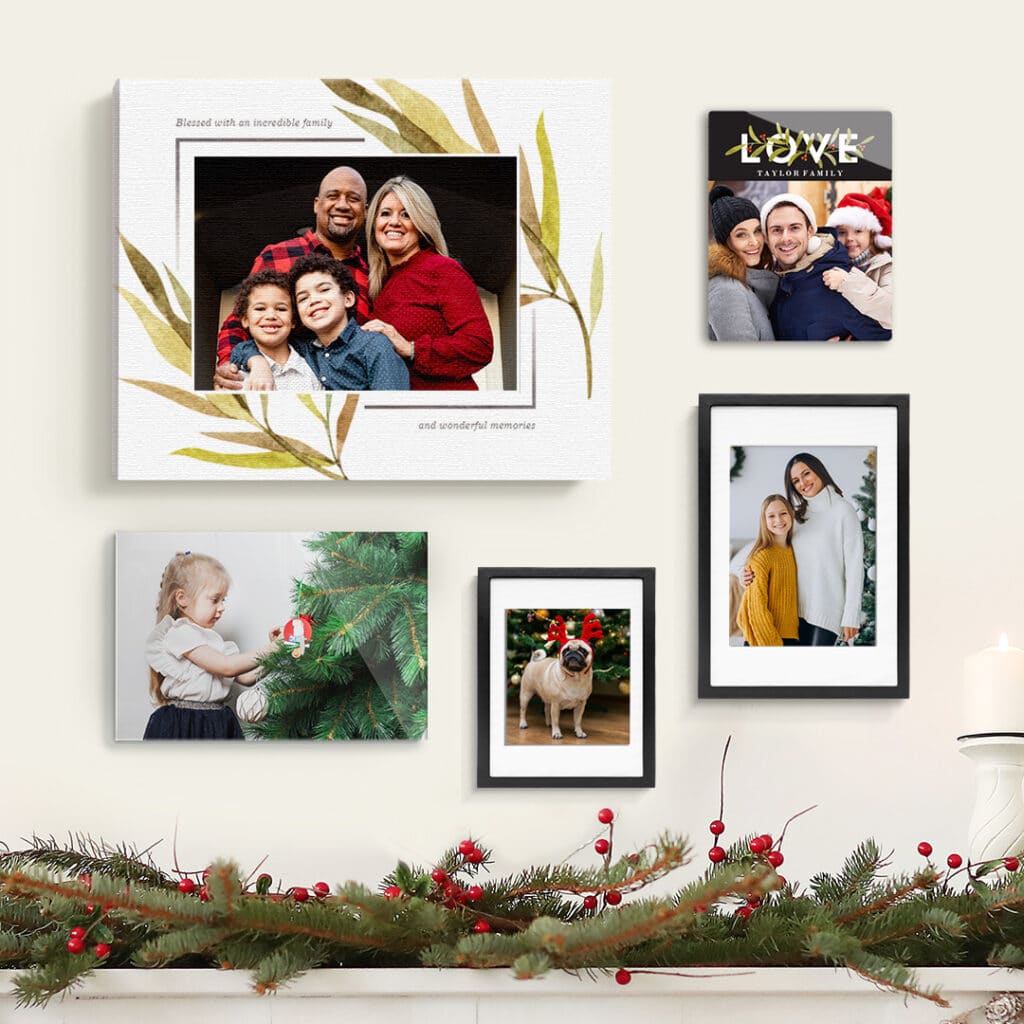 Personalised name signs: create personalised ceramic tiles with stand for an extra special dinner table seating arrangement for your guests, or even personalised placemats!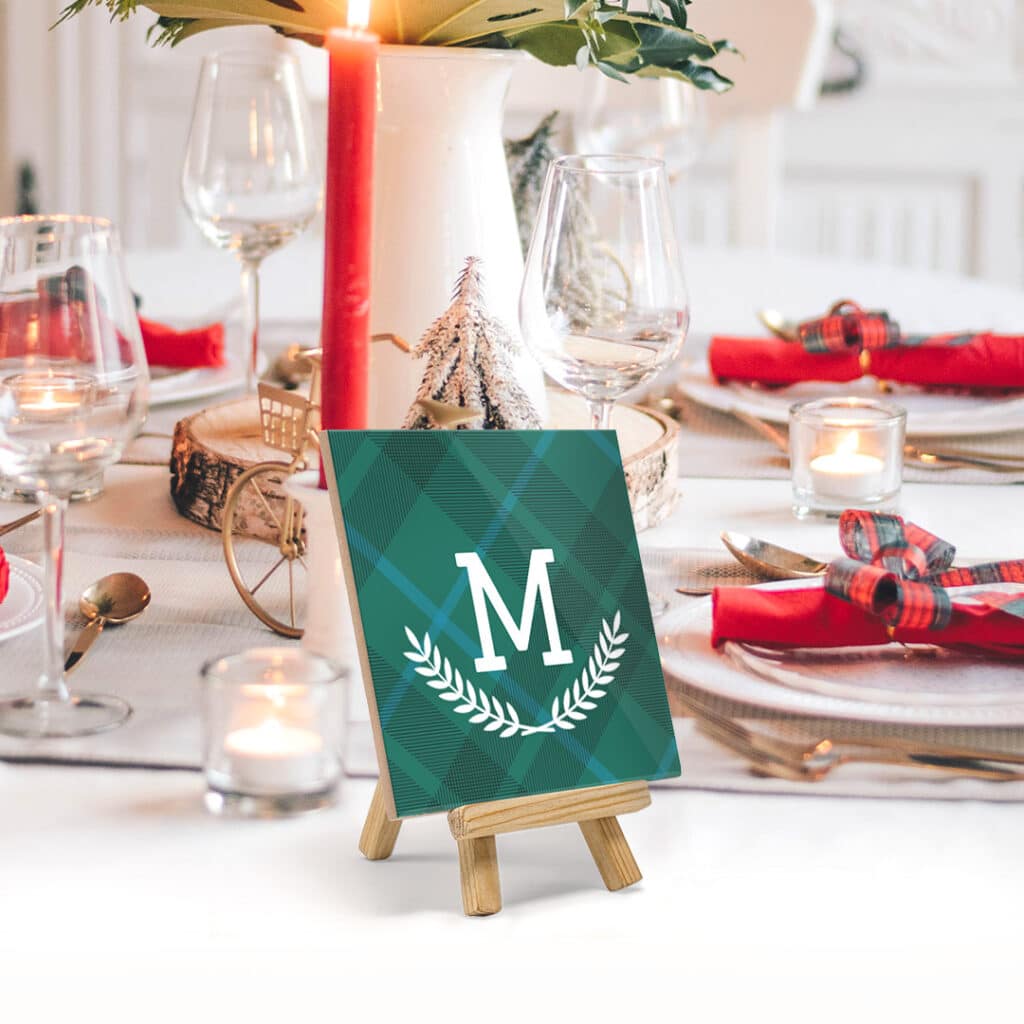 Wall art printed with cherished pictures and sayings: photo tiles are available as singles or in sets, and are perfect for rooms where you can't or don't want to bang nails into the walls!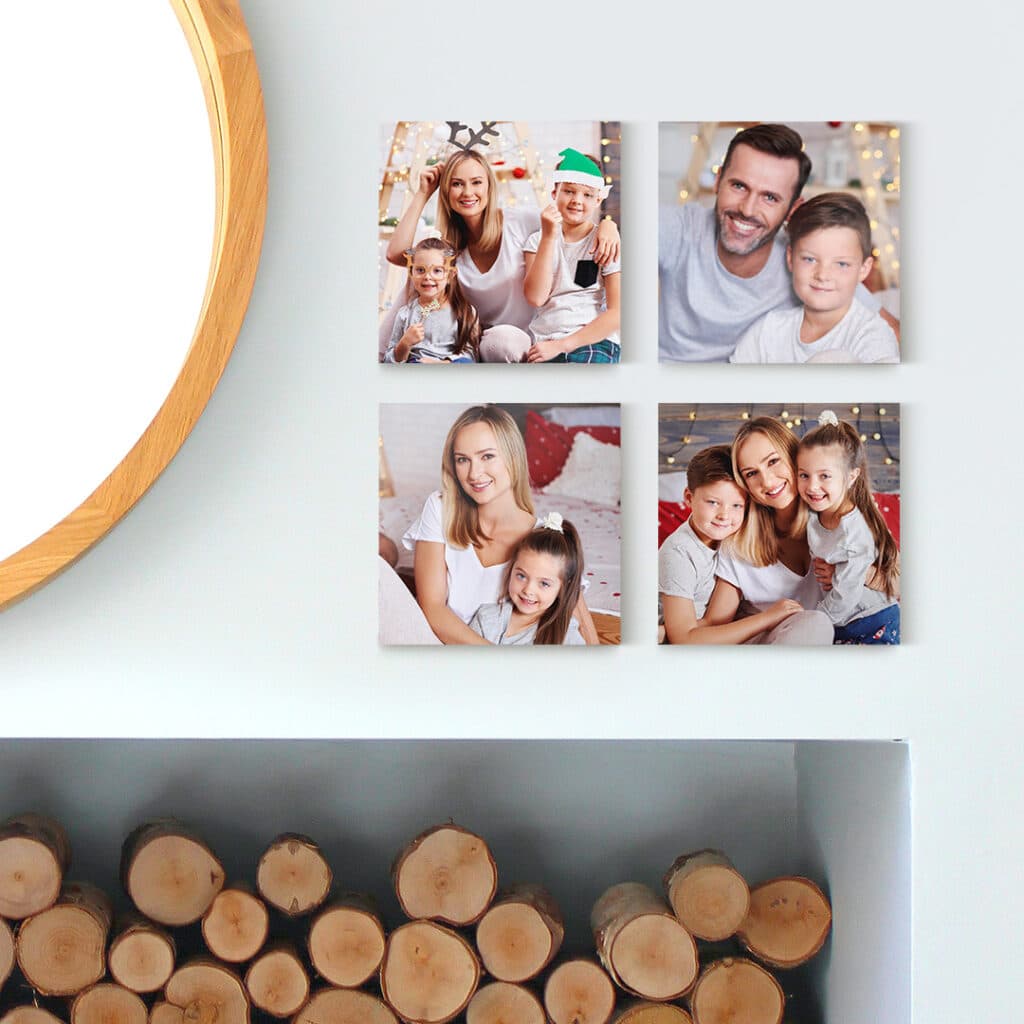 Festive decor: Christmas ornaments , (you can use personalised ornaments for Christmas door décor), custom tea towels for the kitchen and festive placemats for the table as well as personalised small (beach) towels for the wash basin.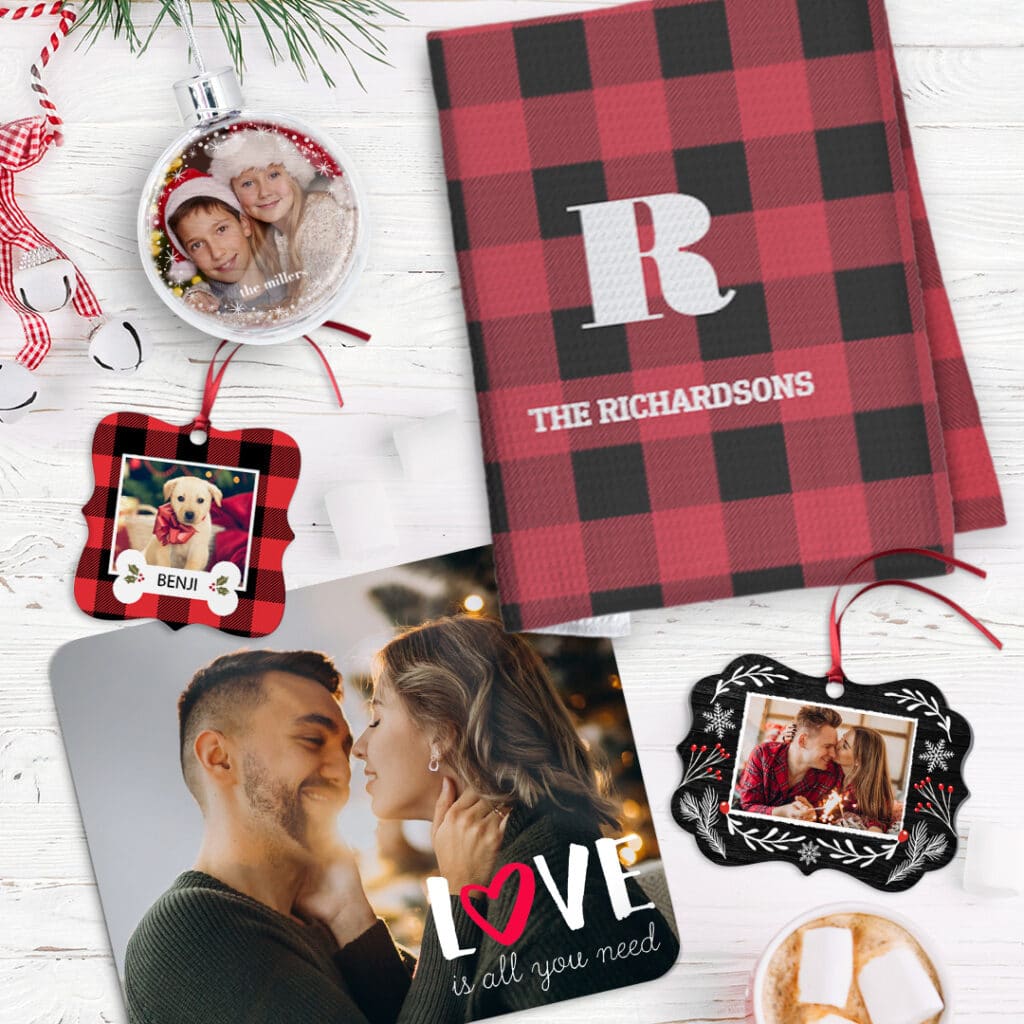 You can even create a festive table with personalised chopping boards with matching tea towels for serving charcuterie at your festive parties.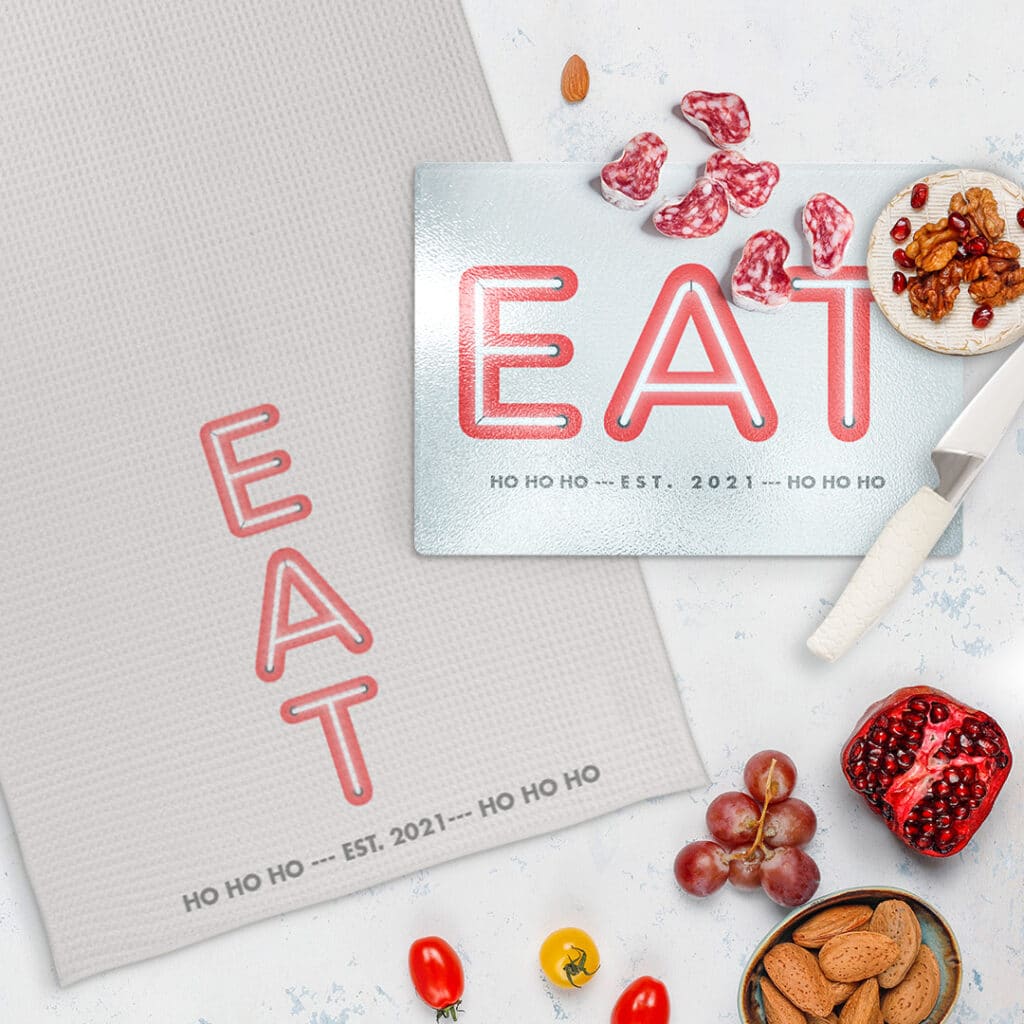 Mugs of all colours, sizes and shapes can be customised for Christmas cheer when printed with festive photos and designs. Don't forget matching custom coasters!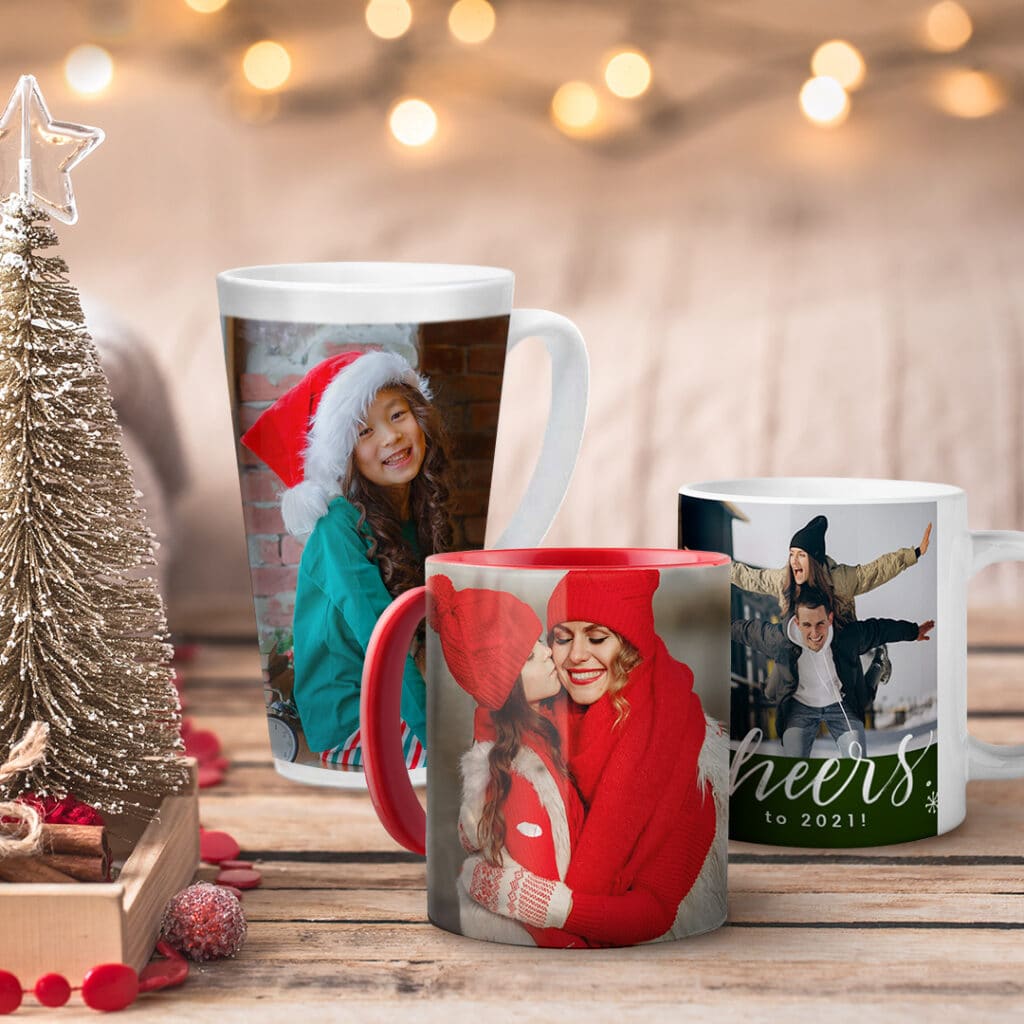 Personalised Christmas Cards. Our Christmas greeting cards (8×6″ size is now standard) are perfect for sharing customer Christmas updates with friends and family this year.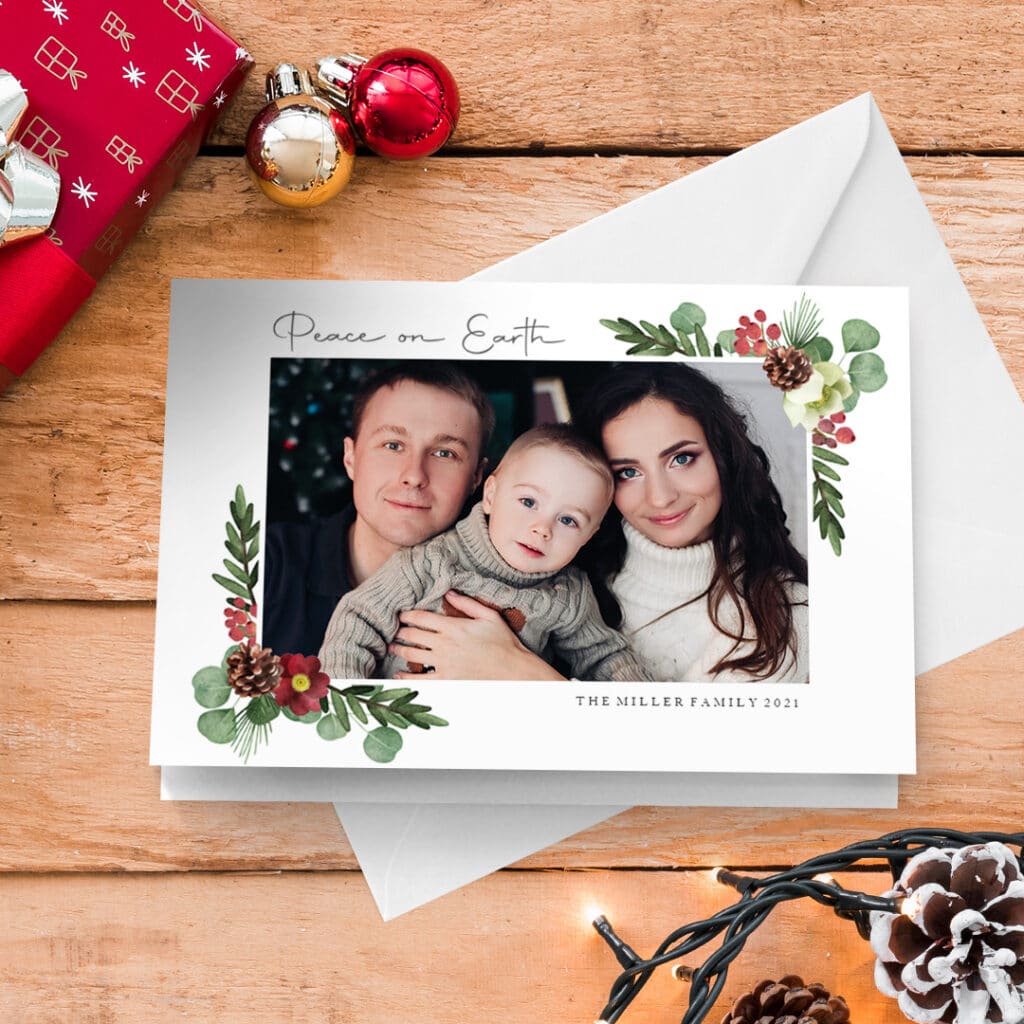 Customised Stocking Fillers: tins make the perfect container for jewellery present (which is a Christmas favourite) safekeeping and organising year after year, notebooks and diaries are ideal for their New Year's resolutions, and phone cases will protect their most precious devices from accidents with a smile! And what's not to love about personalised playing cards?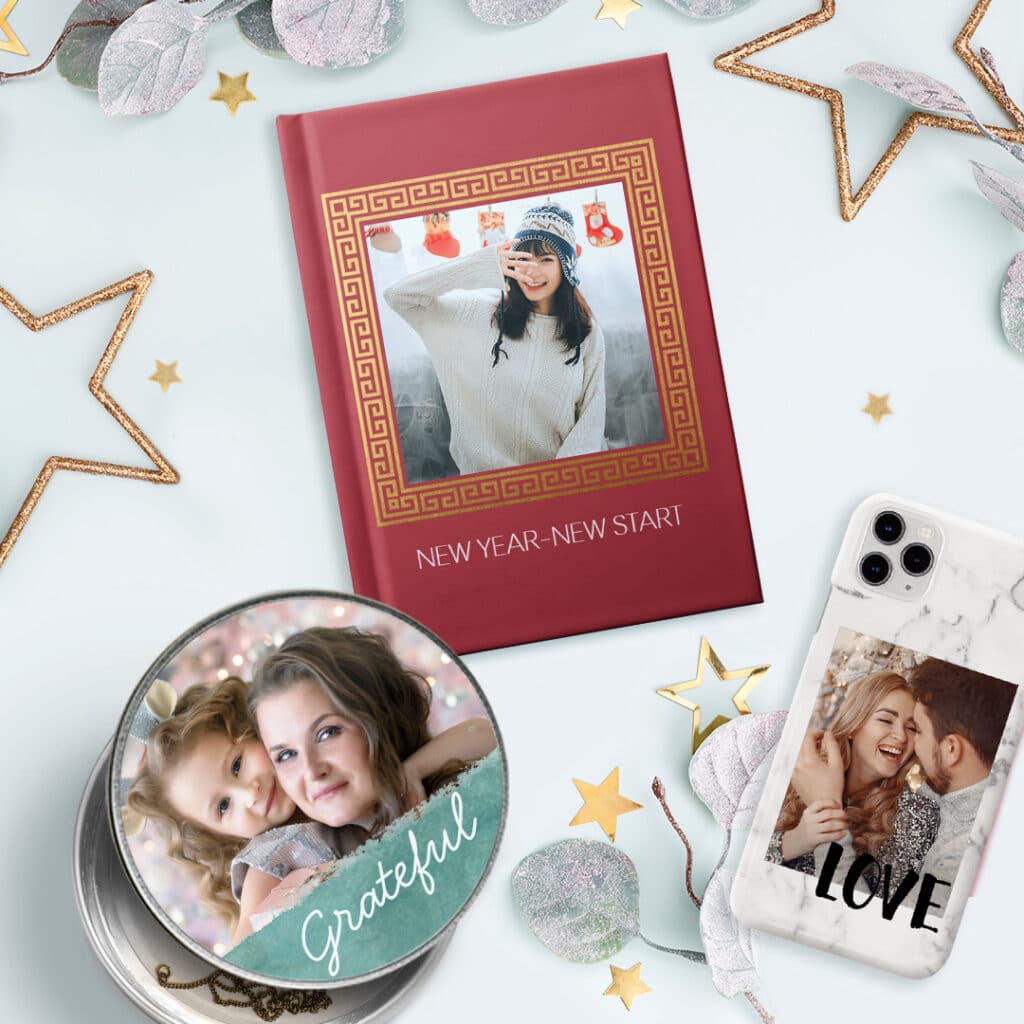 Festive Home Décor Ideas
New hosts: The recent boom in new home ownership has led to first-time hosting needs and housewarming gift demand. Offer entertaining essentials like personalised cutting (cheese) boards, Christmas placemats, festive kitchen towels (tea towels and small beach towels) and matching mugs, or gifts like candles (customise a photo plant pot and add a shop-bought candle) and edible treats presented in fun personalised products (such as when they are wrapped in custom tea towels or personalised tins). Custom plant pots make the perfect home-warming gift and can be personalised to match any room décor, and wooden block calendars are stylish enough to be displayed on a mantelpiece or side table.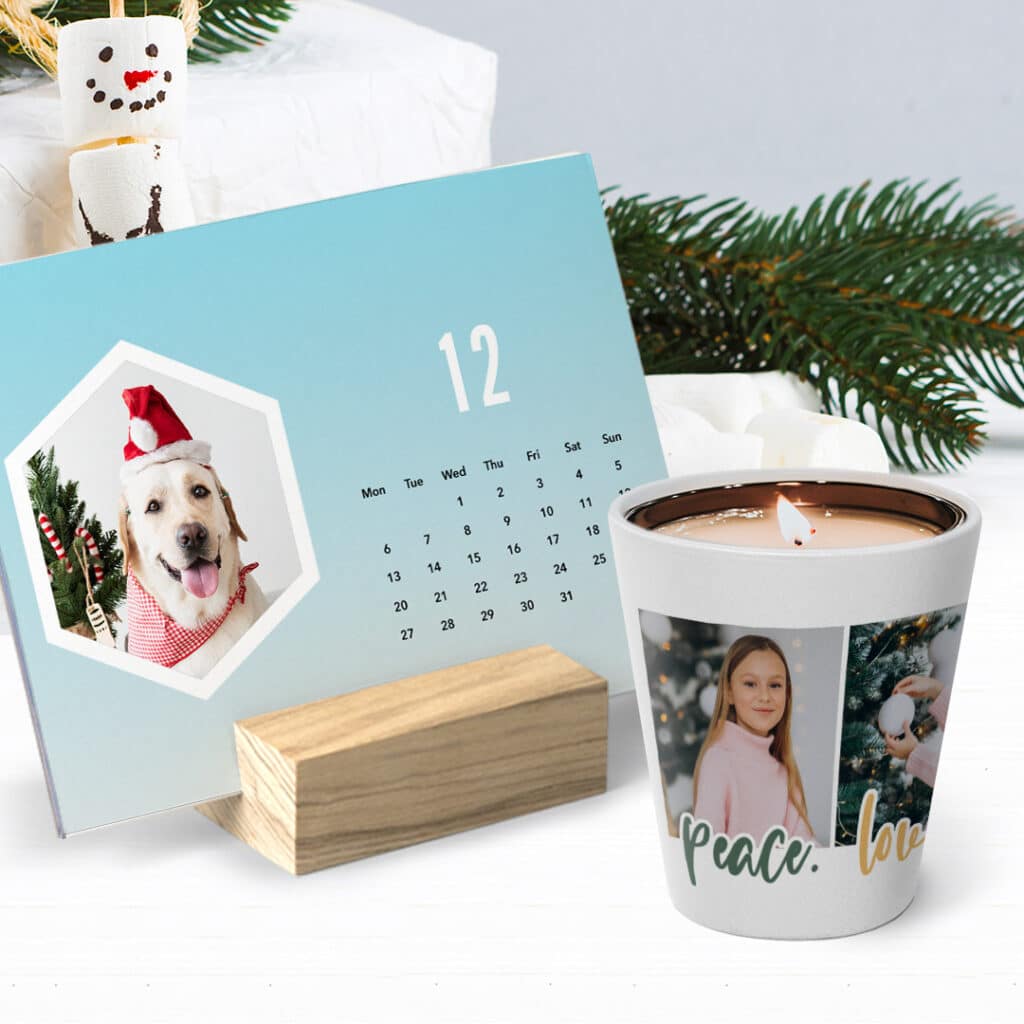 Return to entertaining: Those who haven't hosted in a while may also be looking to spruce up their go-tos. Custom tableware (placemats and mugs), and soft furnishings (cushions and blankets) are likely to be a popular gift as people welcome guests back into their homes.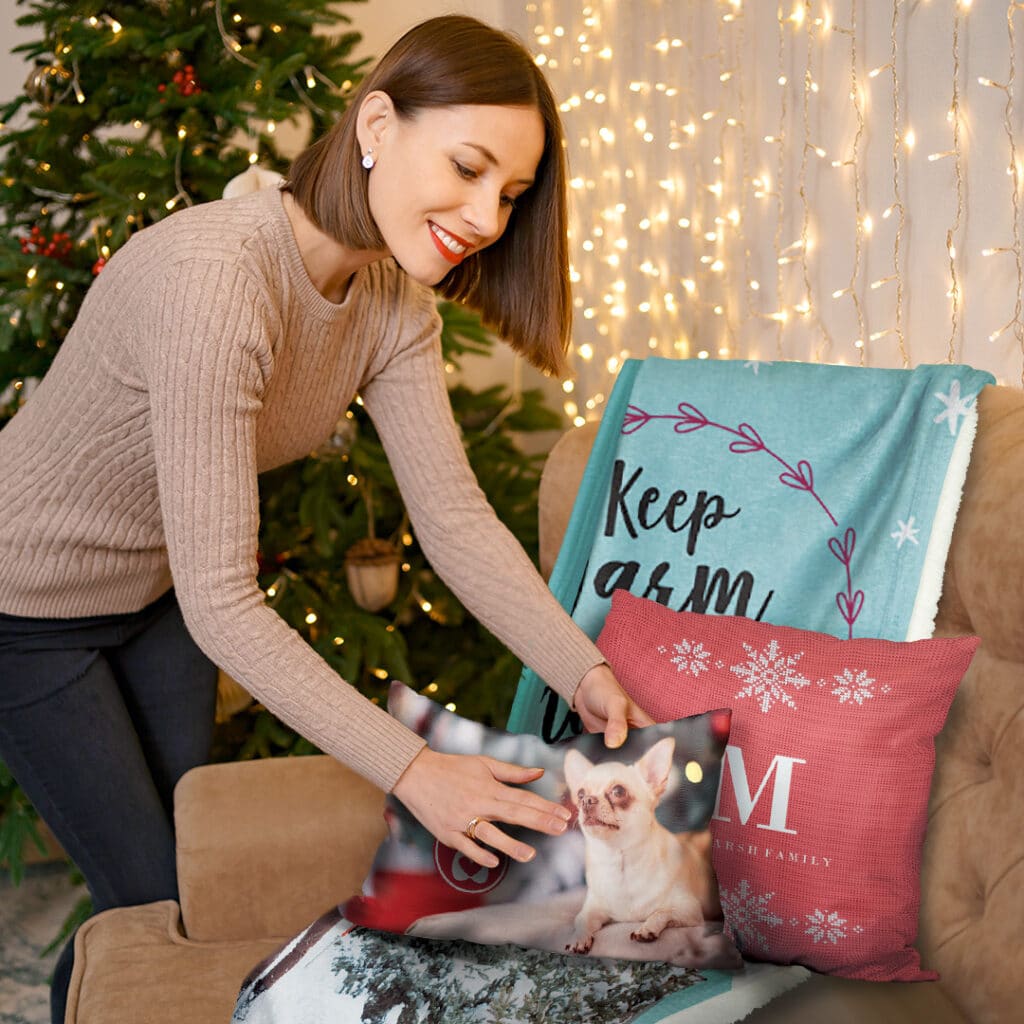 Remote working: It doesn't look like the return to the typical 9-5 work life will be happening any time soon, so gifts that brighten up that office desk will always be welcome. Think photo mousemats, notebooks and office coffee mugs!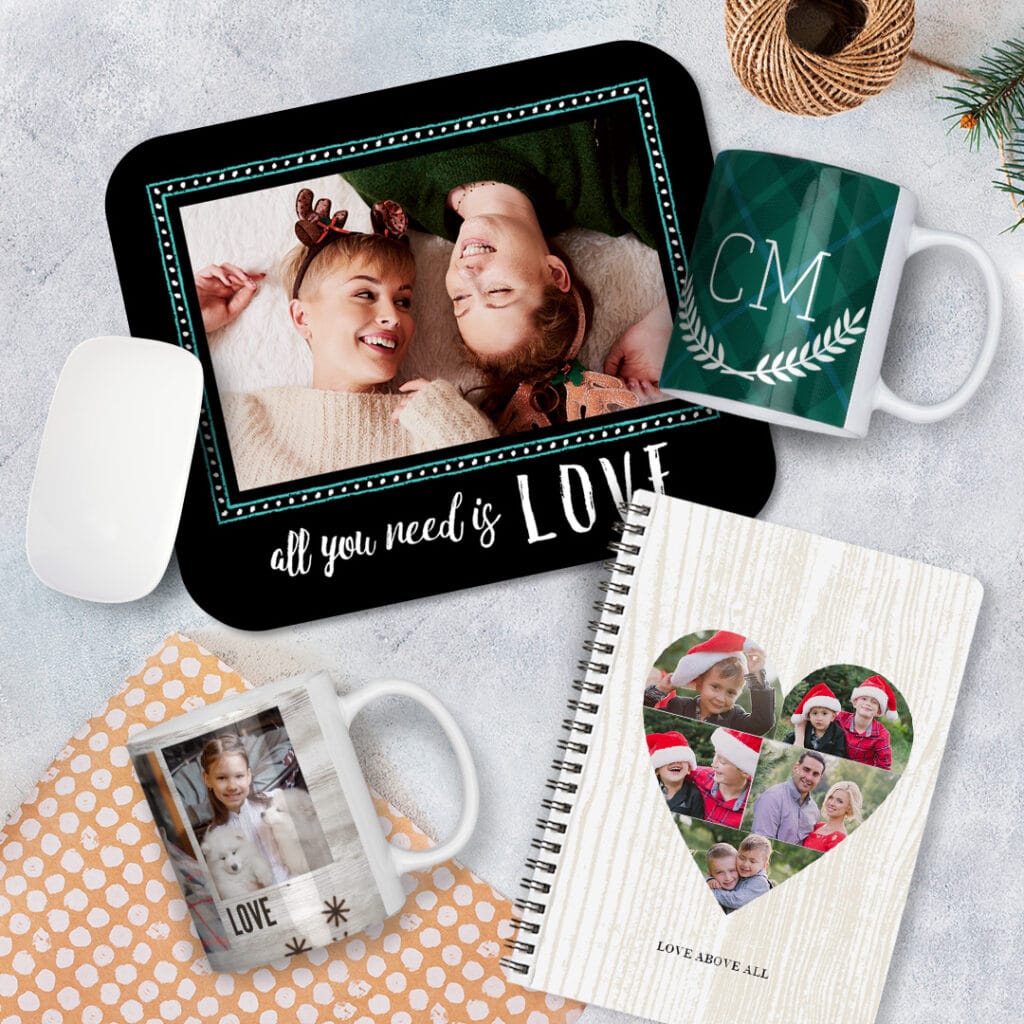 Don't forget jewellery! Jewellery and accessories play a pivotal role in helping people complete their Christmas looks, or accent their everyday ensembles. Personalised tins add interest to the gifts, and printing their name on the tin's lid will make these especially unique and make an added keepsake gift for them.
Travel helpers: As travel becomes possible for many again, think about gifting personalised water bottles, beach towels, as well as our new slimline keyring as suitcase tags.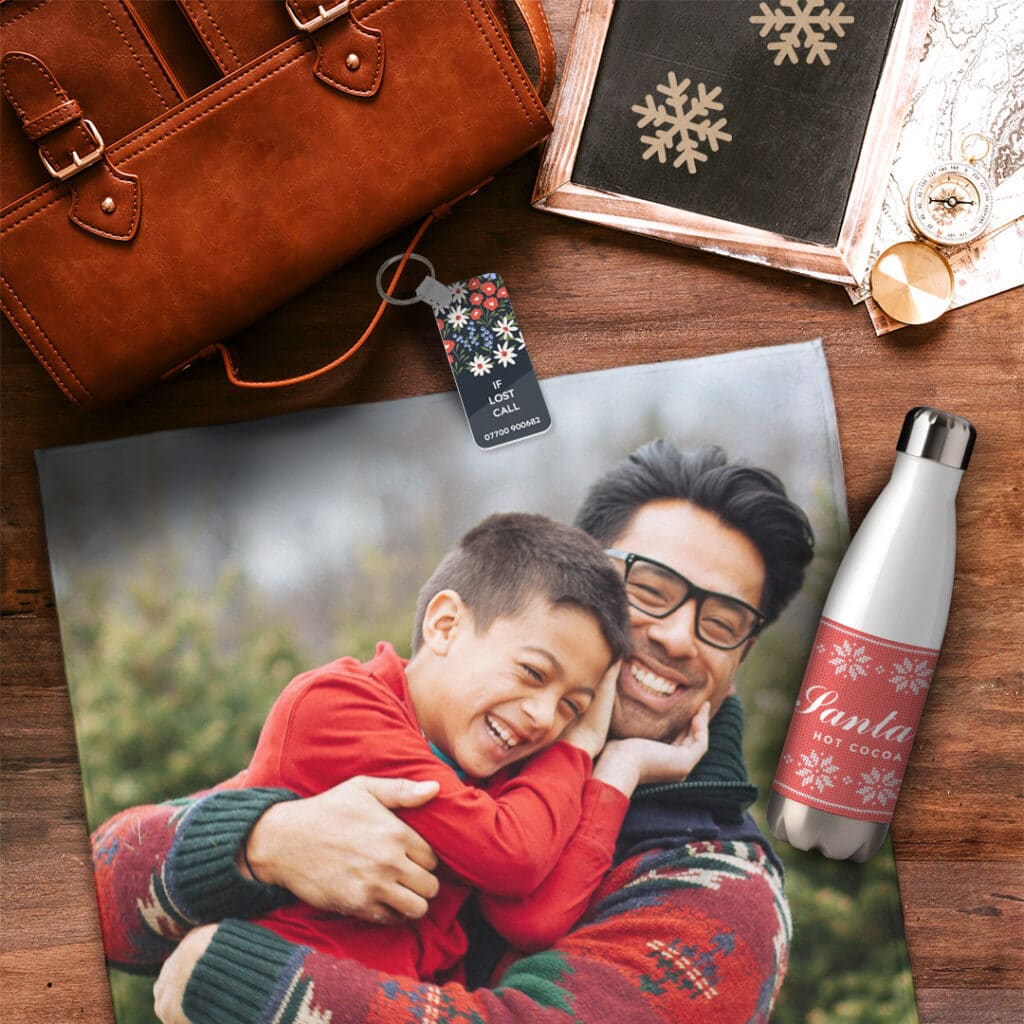 Outdoor emphasis: Pandemic-fuelled trends like drive-by parties, and garden movie nights could stick around through the season, so help them stay warm and cosy with blankets and cushions, and match them with custom travel mugs or insulated bottles to keep their hot drinks warm for longer.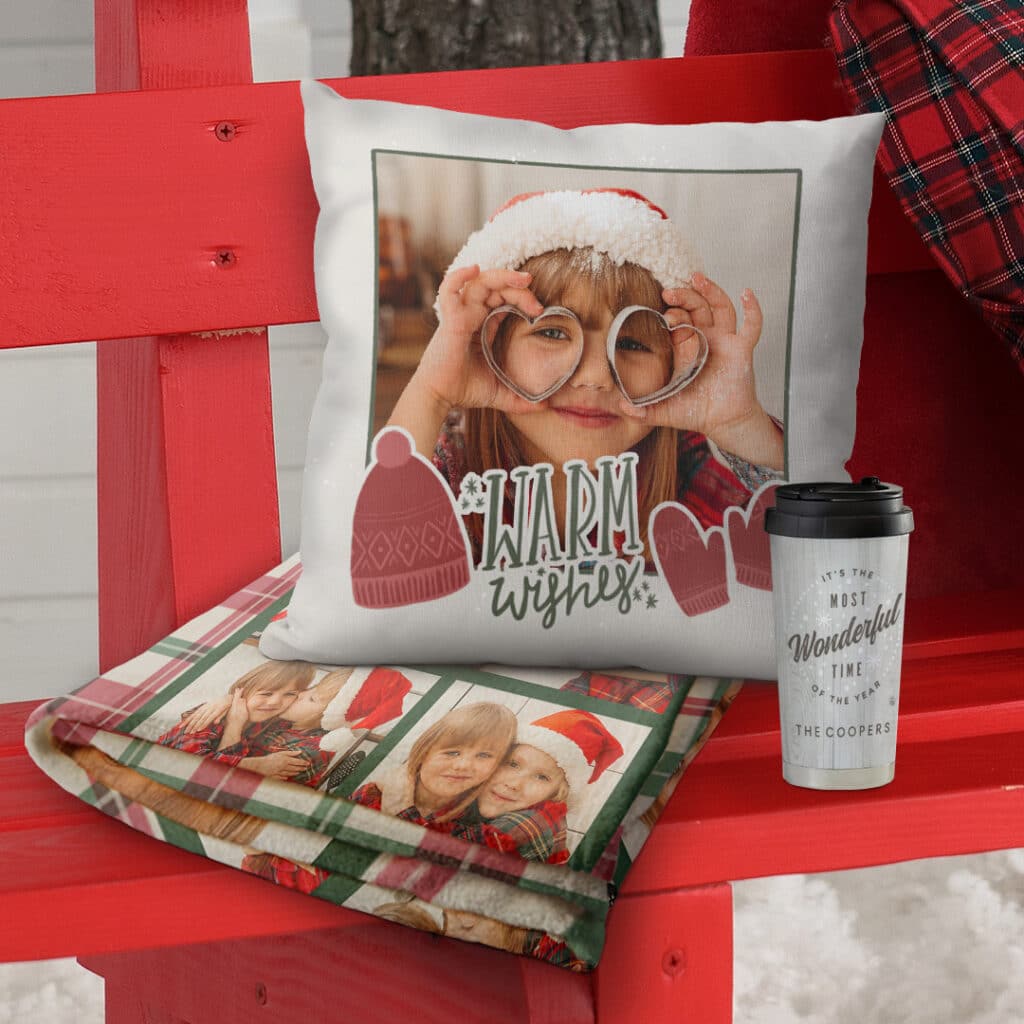 Need inspiration and ideas for Christmas gifts? Browse through our Christmas Gift Catalogue.

Snapfish + Macmillan are working in partnership to raise vital funds. For every greeting card or flat card set sold, Macmillan receive up to 15p.
Which 2021 Christmas gifting and decor trends are you excited to try? No matter which ideas you end up choosing, you're sure to inspire warmth and wonder this season. Remember to tag your creations on Facebook, Instagram or Pinterest with #snapfishUK or @snapfishUK so we can see what you've created!